Rewilding is a global effort – and a global need
While the term "rewilding" has gotten the most press in the UK and Europe, it's important to remember that few of the world's ecosystems remain intact (just 3 percent, according to a recent story in The Guardian), and that efforts to reverse that are underway everywhere.

Which is why we're so excited to share an interview with Limbi Blessing Tata in this week's newsletter. This Cameroonian conservationist struck out on her own about five years ago to create an NGO that takes a balanced approach to conservation, one that consults with local communities and helps to fulfill their needs alongside those of nature. Her work is a reminder that, as we wrote in our mission statement, fighting for a sustainable future must include fighting against social inequality. Thanks to Elise Van Middelem at Sugi for connecting us.

Plus, as usual we have some book and article recommendations for you – and even an art pick this time around.

Looking forward to hearing from you,

Domini Clark and Kat Tancock, editors
---
How we're rewilding: Limbi Blessing Tata, Ecological Balance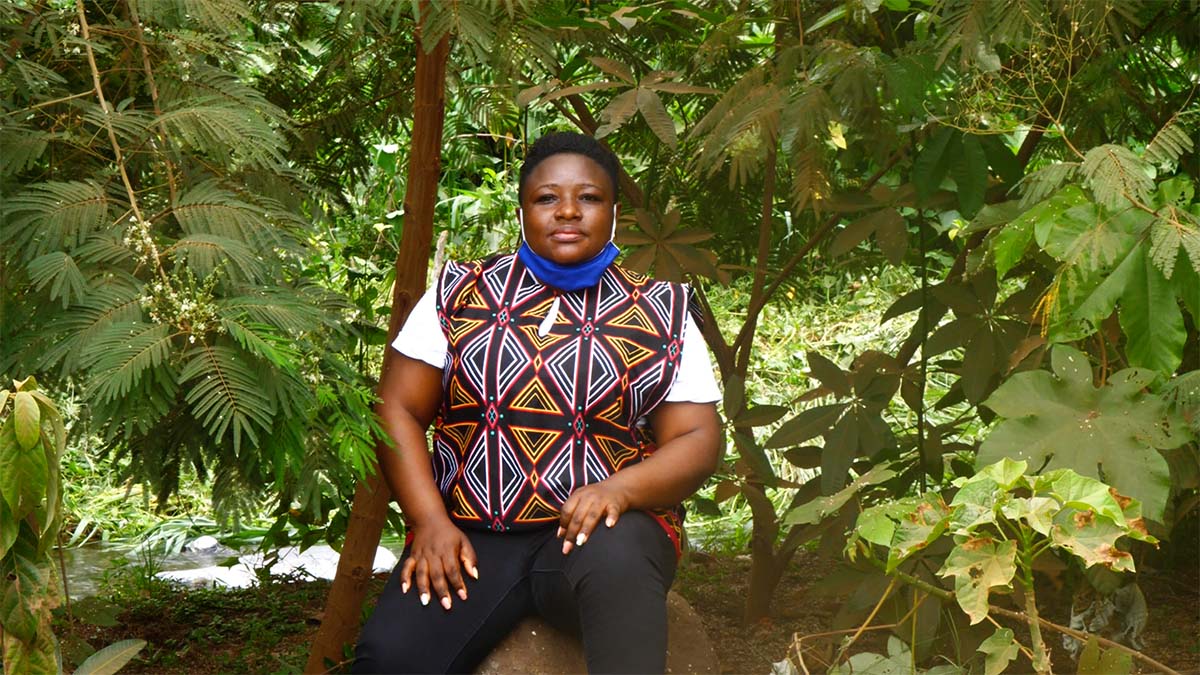 Conservationist Limbi Blessing Tata had an "overambitious goal" – to rewild five water catchments in her region in Cameroon. With two Miyawaki forests already planted and a third in fundraising mode, you could say she's halfway there.
---
"Restoring land without restoring relationship is an empty exercise. It is relationship that will endure and relationship that will sustain the restored land. Therefore, reconnecting people and the landscape is as essential as reestablishing proper hydrology or cleaning up contaminants. It is medicine for the earth."

– Robin Wall Kimmerer, Braiding Sweetgrass
---
Recommended reads
Written by Christiana Figueres and Tom Rivett-Carnac, the leading architects of the Paris Agreement, The Future We Choose contains all the facts, warnings and behind-the-scenes anecdotes you'd expect. But it's the two starkly different visions of the future, based on whether we reach emissions targets, that will galvanize you. They're followed by chapters on optimism, abundance and regeneration – three mindsets that are essential to success – and 10 actions everyone must be doing now. (Our favourite, of course? Reforest the Earth.) "We can choose to write a story of regeneration of both nature and the human spirit," the authors write. "But we have to choose."

The Future We Choose is available in paperback this month. We encourage you to borrow it from your local library or purchase from an independent bookstore.
---
Elsewhere in rewilding
The Los Angeles River – a Hollywood favourite for car chase scenes – is getting a new role as the site of an ambitious wildlife restoration project.

"We realised we had something very precious to build on." More and more designers and architects are incorporating rewilding into their work. Here's one example.

Rewilding Europe has partnered with Exodus Travels in what's being called "a thoughtful model with which to reopen global travel."

Lastly, a farm in Devon, UK, is continuing its rewilding project by introducing two Mangalitsa pigs to echo the impact of the wild boors that once roamed the land. And, yes, this is basically an excuse to look at photos of these adorable animals.
---
Rewilding team loves
🐝 Domini loves the quirky "Save the Bees" drawings by Welsh artist Lucy Jane, in which the insects are anthropomorphized into antennae-sprouting human adults and children wearing yellow and black striped clothing.
🛋 Kat is taking some time off at the end of the month to attend the Hot Docs film festival, streaming this year to every couch in Canada. She's got tickets to films including nature-themed Hell or Clean Water and The Last Forest as well as Come Back Anytime, "a year in the life of a self-taught Japanese ramen master."