At this Ontario conservation area, restoring wetlands and forests goes hand in hand with building a green space for people to enjoy.
It's a warm, dry autumn day and I'm exploring the trails at Terra Cotta Conservation Area, a 485-acre property about an hour west of Toronto. The trees have started turning, and the stained-glass effect of the sun hitting golden and red-orange leaves keeps drawing my eyes. I photograph intricate layers of lichen on a cut-off stump, and day-glo lilac asters in flower. My guidebook had mentioned bullfrogs the size of small dinner plates, and while I don't spot any of those, I do encounter plenty of other small wildlife: squirrels and chipmunks running busy loops, little frogs warming themselves on the edge of a pond, and a blue heron taking flight over a lake.
Terra Cotta is situated on the Niagara Escarpment, a UNESCO World Biosphere Reserve, and at one point I come across markings for the Bruce Trail, a 1,376-kilometre network of rocky pathways that is the country's oldest and longest marked footpath and the crown jewel of the region's hiking scene.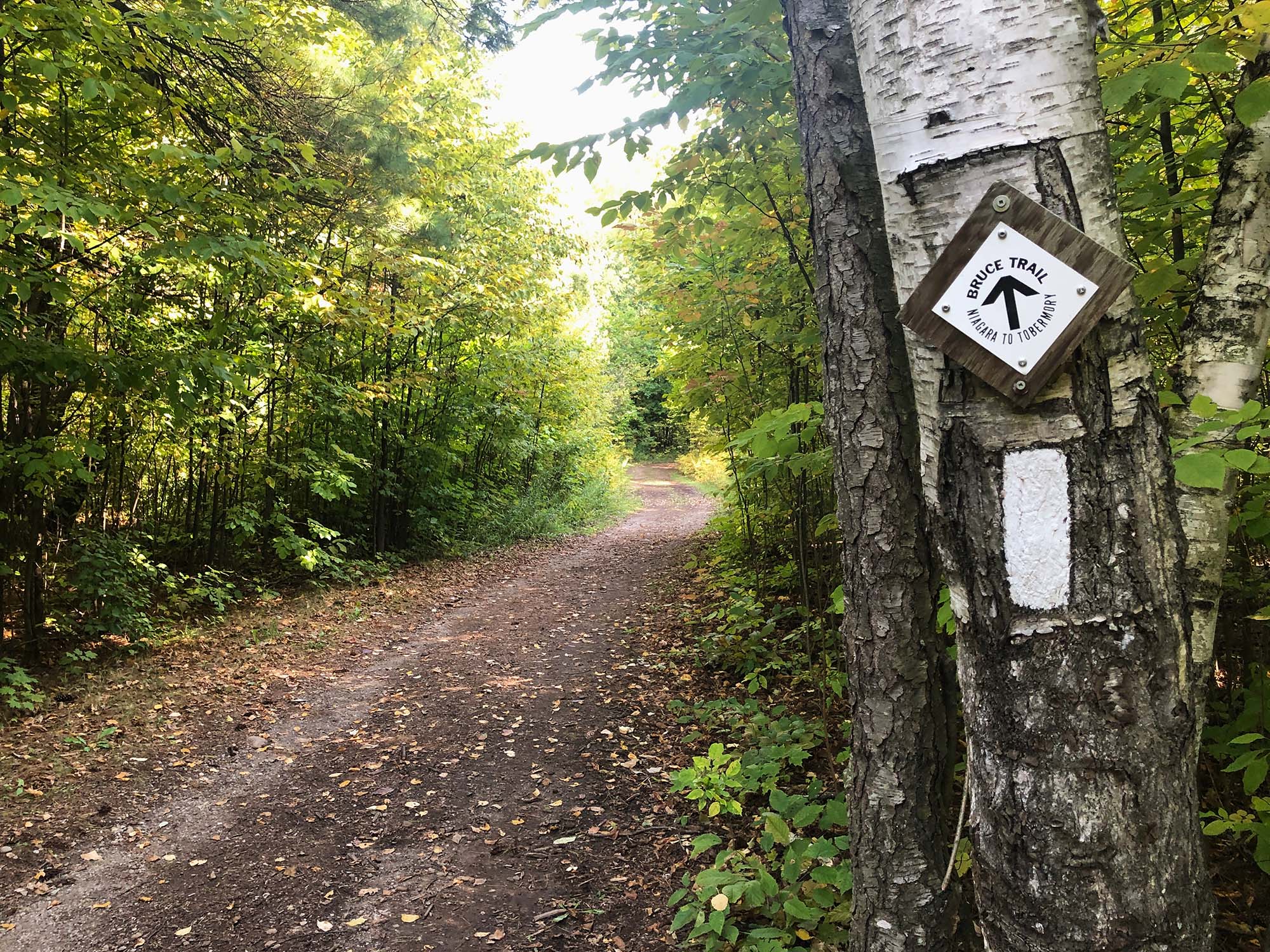 This being Canada, you'd think I was exploring a remnant of land untouched by colonization, or at least an old, abandoned farm long overgrown with forest. But you'd be wrong.
The area used to be called Terra Cotta Playground, and it was a popular recreation spot: a campground with cabins, a dance pavilion and a one-acre concrete-lined wading pool/pond. Then, in the 1980s and 1990s, priorities shifted and ecological restoration began.
I was curious: How did they manage it, and what lessons are there for other recreation sites looking to become a little wilder? To find out, I got in touch with Credit Valley Conservation (CVC), whose mandate includes managing the natural resources of the Credit River watershed, some of whose waters flow through Terra Cotta on their way to Lake Ontario. And that's how I found myself back at the conservation area about a month later with two knowledgeable guides ready to answer all my questions.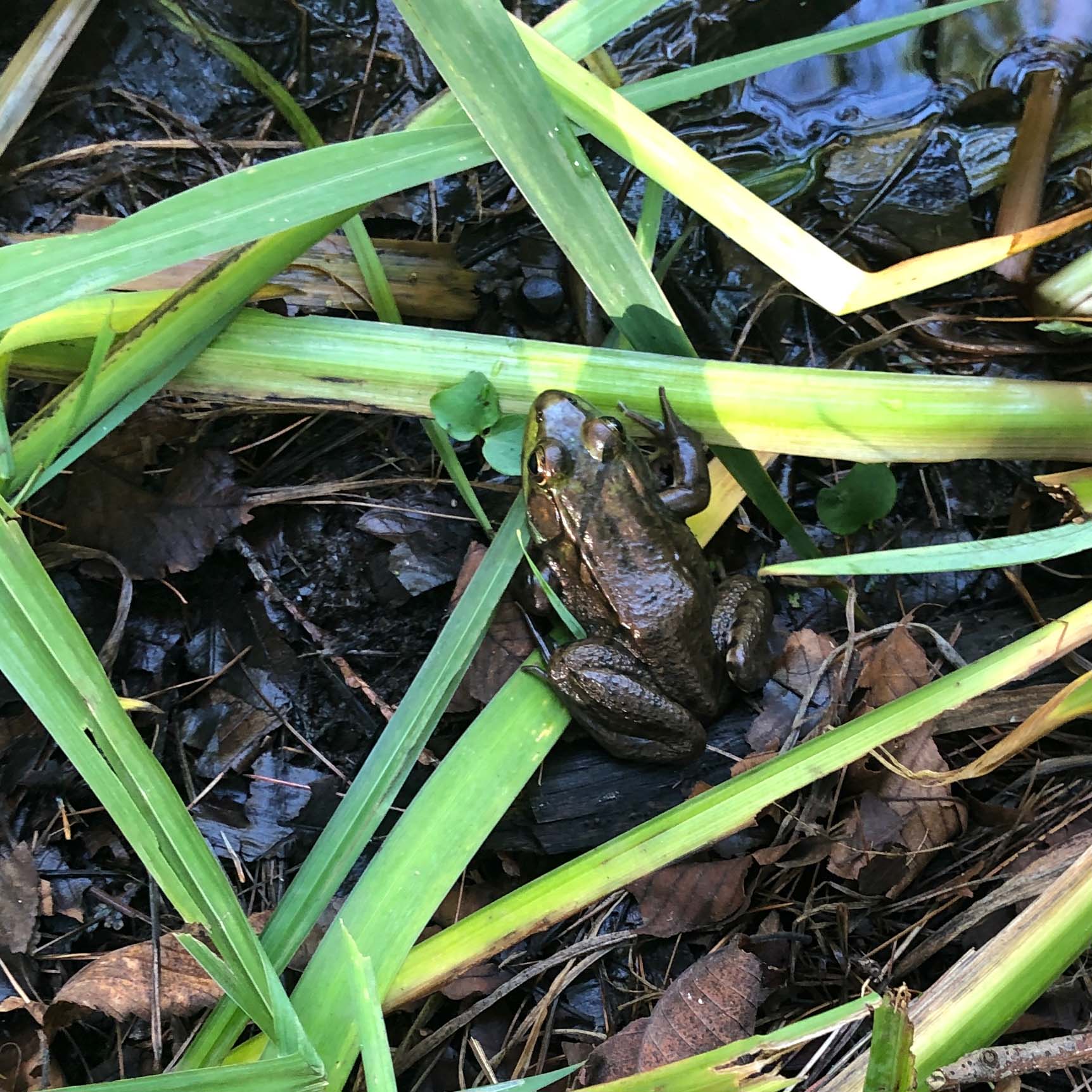 Freyja Whitten, CVC's program manager for terrestrial restoration, remembers coming to Terra Cotta as a child of 5 or 6. "I have vague memories of coming here on a school bus and going swimming," she says. (They still have visitors showing up and inquiring about the pool and camping facilities, adds Sherwin Watson-Leung, CVC's program manager for aquatic and wetland restoration.)
But it's not that Terra Cotta is no longer for recreation. It's just that they've shifted to a different kind of recreation, one where sharing the land with other species – and leaving chunks of it as untouched as possible – has taken precedence. The area is popular with dog walkers (leashes mandatory), school groups, hikers and birders, as well as anyone who wants to take a breath of fresh air and get in a dose of forest bathing. In winter, you can snowshoe or ski the trails and even go skating when the weather is right; in spring, you can attend maple syrup–themed events.
With all this attendance – this is the most populous region in Canada, and there's high demand for green space – one of CVC's goals is to channel visitors onto maintained trails and encourage them not to wander, so that the land has a chance to regenerate. "We're letting nature do its thing," Whitten says.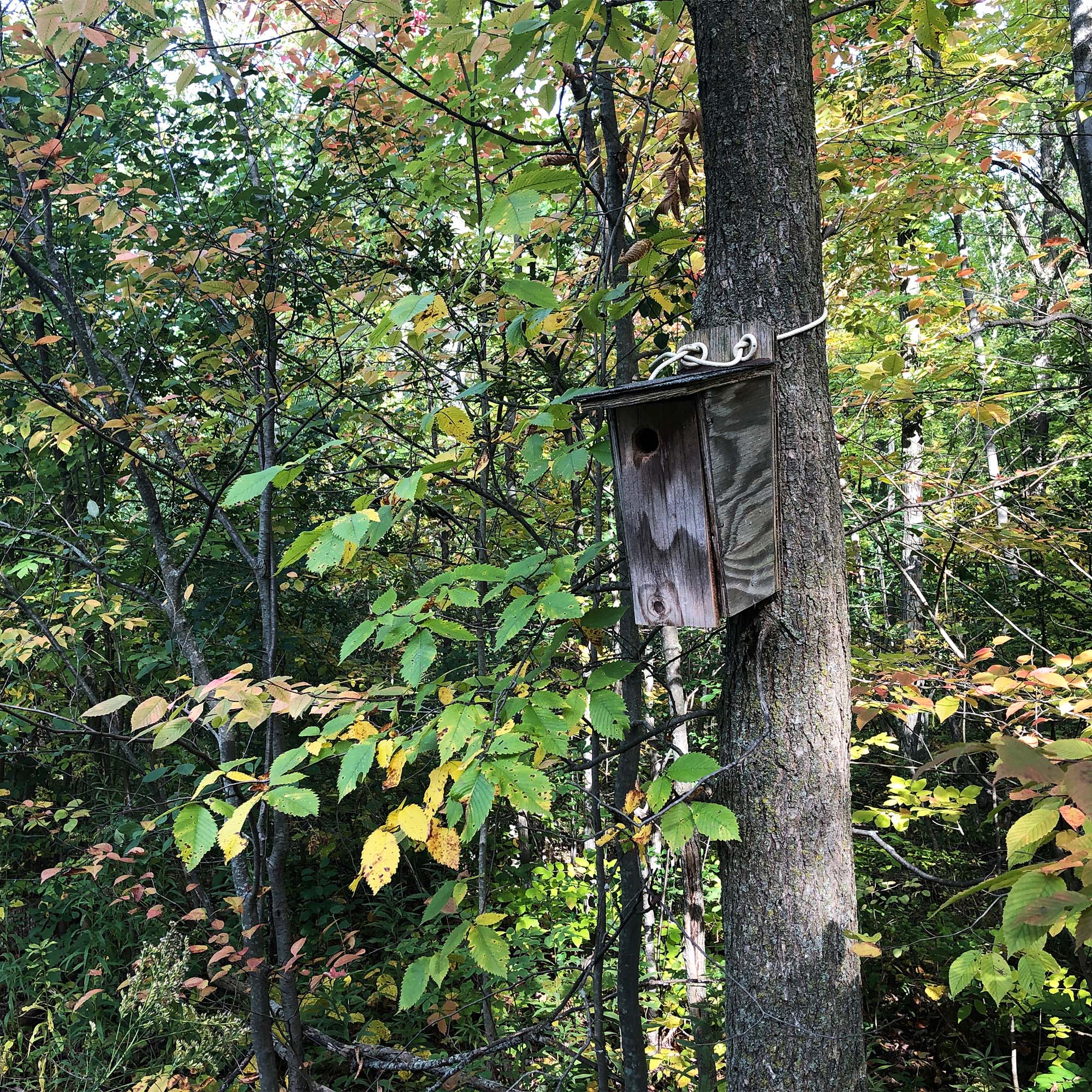 The history of restoration work at Terra Cotta starts roughly in the '90s, says Watson-Leung. One of the first tasks was removing the concrete pool, which was "a big decision" as well as a big job, and turning the area into a naturalized wetland by adding native species and removing invasives such as purple loosestrife and phragmites. About a decade later, CVC developed a management plan.
It was in 2008 that the restoration program truly came into its own with staff and resources, Watson-Leung says, at which time his boss handed him a bunch of files with handwritten notes on what had been done thus far. "It was very ad hoc. It was more reactive, like, we have a problem here, let's treat it. Whereas now, we're looking more holistically across our problems."
Whitten handles land and Watson-Leung handles water – though of course their territories overlap – so as we hike through various areas of Terra Cotta, the narrative shifts back and forth between the two. In one area, Watson-Leung points out a step-pool system in a rebuilt creek designed to slow water flow and give fish a resting place as they journey against the current. Nearby, Whitten shows me a place where staff planted willow cuttings, basically "live stakes," as a cost-effective alternative to potted seedlings. She also spots a grouping of the dreaded Phragmites australis, or common reed, in flower, and makes a mental note to call her staff and have them come and deal with it. "It's ornamental, and people think it's quite pretty," she says. "But it's very dense and very tall, and will out-compete pretty much everything else."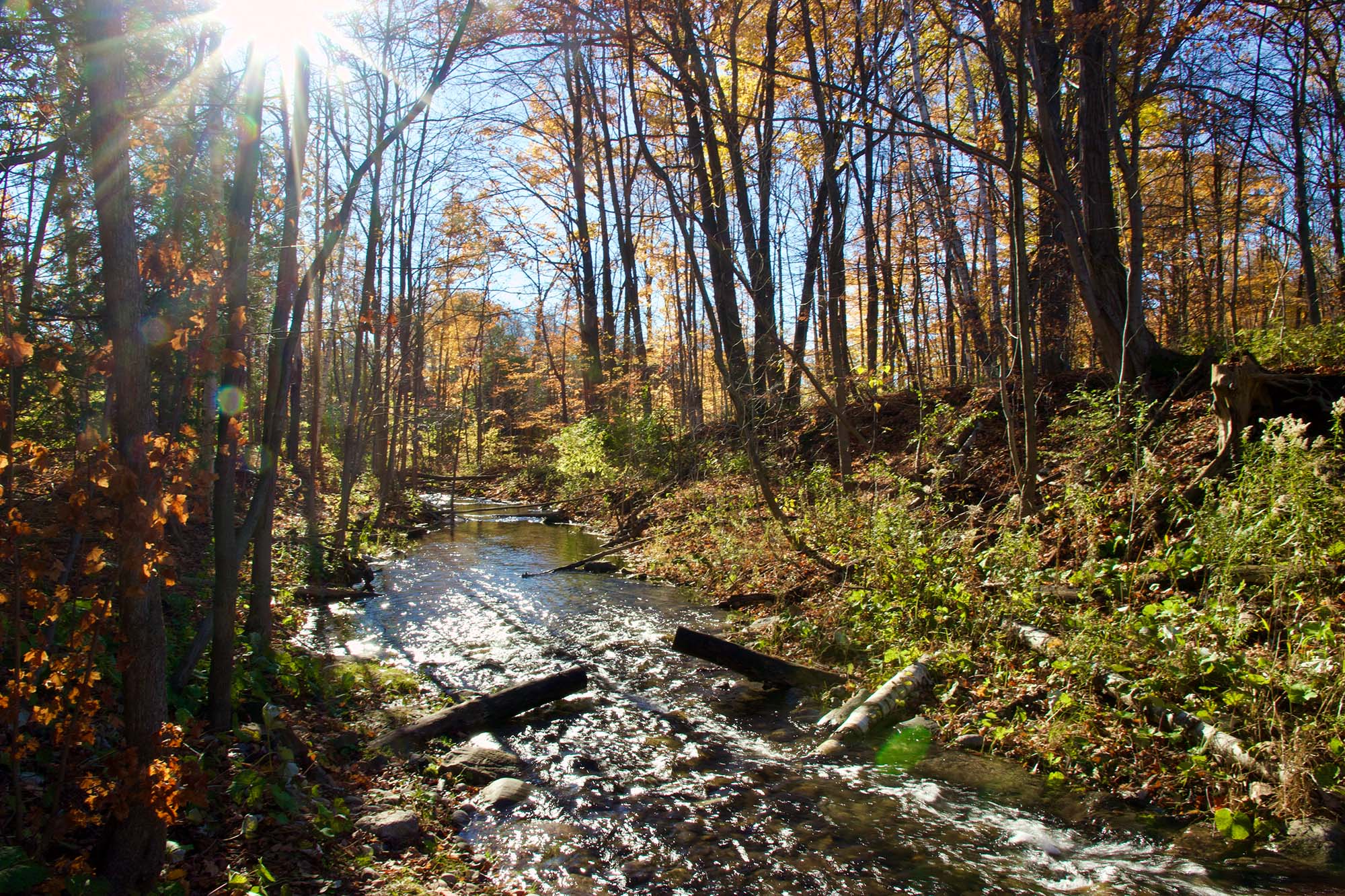 As we walk along one sun-dappled stream, Watson-Leung explains that one of their overarching goals is to "reinstate how the river works." There are more than 600 small dams in the watershed, he notes, all of them old and most not built to last. One of the results of this historic lack of watershed-level management strategy has been blocking not just fish, but the river's functionality.
"The river's supposed to move material," he says. "When you stop that with a dam, you're blocking all that material from moving. And all that power that the river has? It's going to cause more erosion downstream. Even though to our eyes it still looks good, the little stuff isn't getting through. So your river is sediment starved and you lose a bunch of that habitat."
The 10-year plan to restore Terra Cotta ran from 2008 to 2018. One priority was finding a balance between maintaining existing wetland areas and restoring natural wetlands and hydrology: Some ponds, for example, were left in place with modifications while others were decommissioned. Another key aim was to restore creek habitat by removing barriers to fish, reinstating channel processes and lowering water temperature, which was elevated by about 10°C owing to lack of movement from ponds. Overall, the intention was to create a wetland environment where a range of species – birds, frogs, salamanders, turtles and fish – could live happily.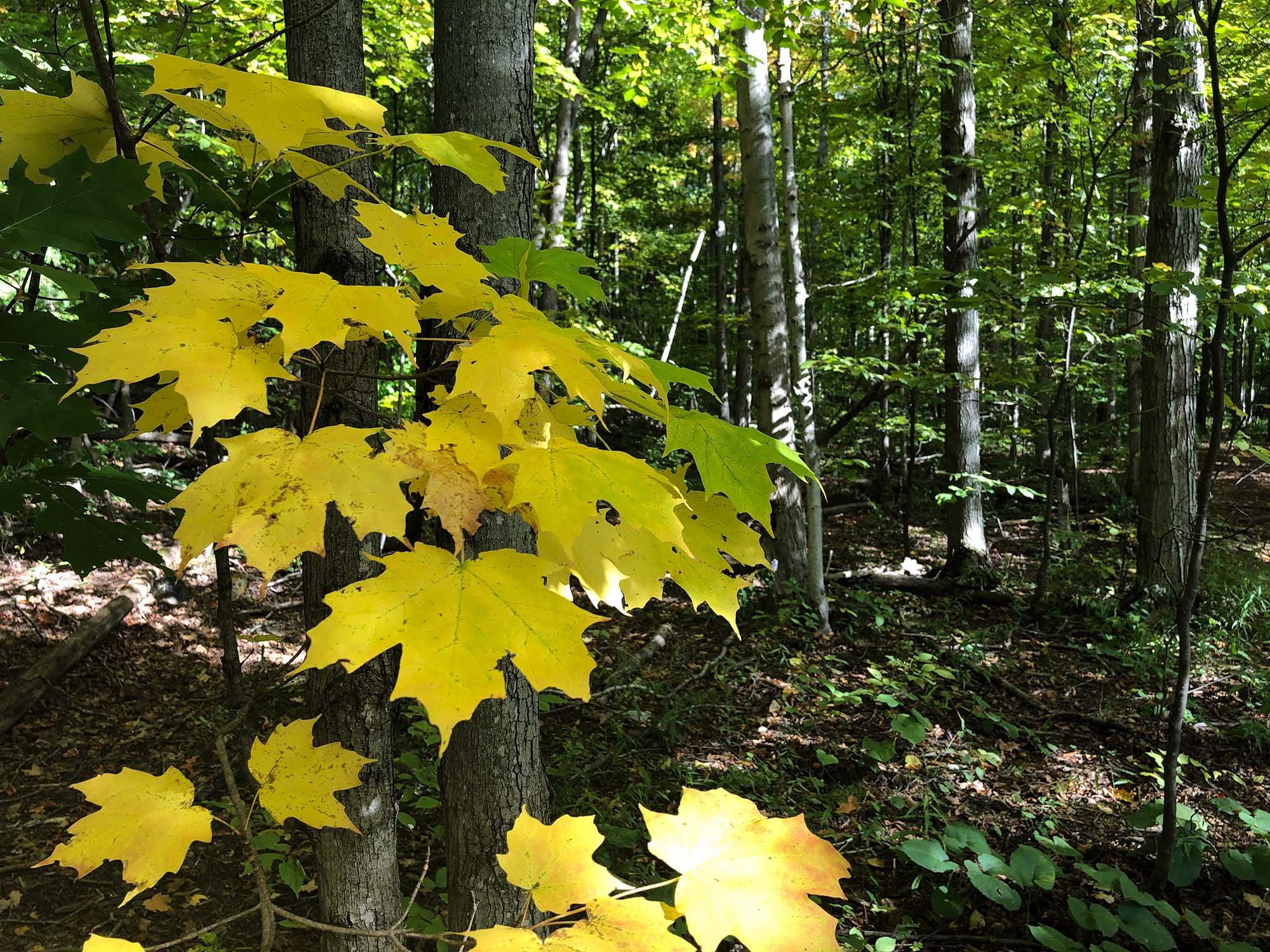 Brook trout in particular are one fish species the team was eager to build habitat for. "They're the only native trout in the watershed," Watson-Leung says. "And they only like it super cool. Anything above 20 degrees Celsius during the summer, they find it really difficult. It'd be like us trying to live in a sauna. So by removing the ponds, it stops that heating."
Since 2018, Watson-Leung and Whitten have shifted their main focus to other projects, and it's obvious they're enjoying this tour down memory lane and chance to see how Terra Cotta is faring. Whitten, for instance, points out one channel of water that used to be a pond and was previously "completely lined by common buckthorn," an invasive plant so notorious it's officially listed in Ontario as a noxious weed. Now, while some still remains, it's far less pervasive. The same goes for other undesirable non-natives such as buckthorn, garlic mustard, Phragmites and dog-strangling vine, which have been removed with the help of volunteers, including high-school students accumulating required credits.
While the team at CVC did have a plan and a mandate for Terra Cotta, part of their work is simply creating the conditions for natural processes to occur, and then watching and waiting – and chipping away at any problems – to see what the wetlands turn into. There are many kinds of wetlands, notes Watson-Leung. One area in particular will, they think, turn into a cedar swamp; that's what it was in the past, according to 1930s aerial photos. The trees were cut down and a pond filled in, but now that water levels have receded, the cedars are returning. "It'll take a number of years," he says. "And that's the ongoing maintenance. We have to check every few years to see, Is it developing? Are there any issues? Do we help it with plantings or do we leave it?"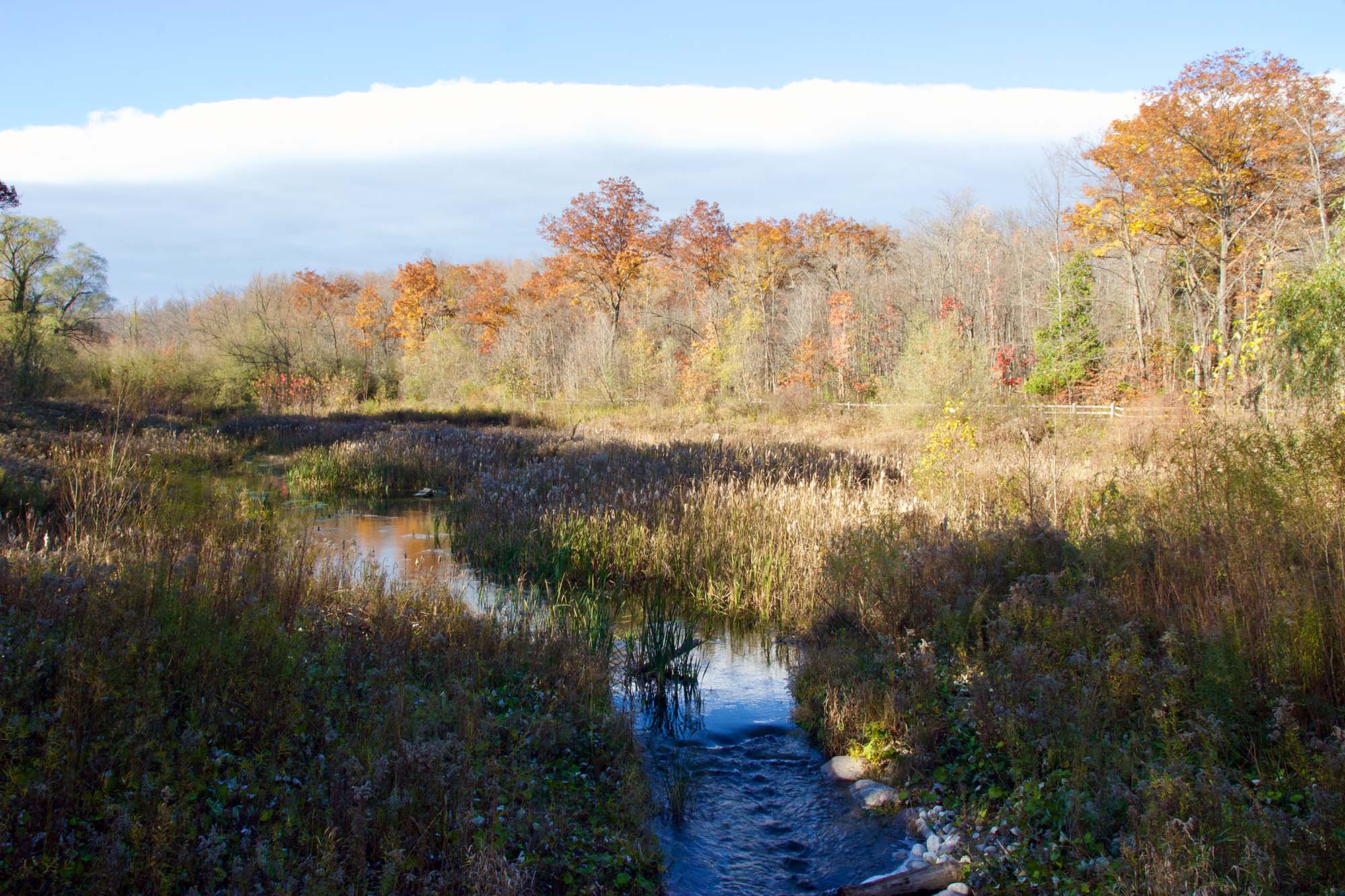 We end our tour on a wooden platform overlooking a small pond. On my previous visit, I had paused here to post a lily pad shot on my Instagram Stories. "My favourite place," one friend replied immediately. This time, we all spot something swimming across, and Watson-Leung decides it's a muskrat. Whitten explains the constant balancing act between all the different interests in this space: the human visitors, the animal residents, the native plant species looking for space to survive.
I ask the pair what they hope to see here in 10 years. Whitten's goal is simple: less invasive plants, particularly the garlic mustard, buckthorn, phragmites and honeysuckle that are dominant across the property, as well as the "random" ornamentals like smoke bush that were planted over the years before restoration began. "In an ideal world, I would say that I've removed lots more of those," she says. "In reality, hopefully the phrag will be under control."
As for Watson-Leung, his vision naturally leans toward the waterways – and he's patient about it. "Sometimes it takes a little bit of time for things to settle down and naturalize and evolve. I'm hoping we will see salamander habitat, and some of the wetlands return to that climax community that we want to see them develop into." And then there's the brook trout. "That's our ultimate goal," he says, "to have the water cool enough for them to return. They're fantastic fish."