Art
The performance artist who finds hope in plants
For Montreal-based artist Khadija Baker, everything is connected: nature, our humanity, and all the things in-between.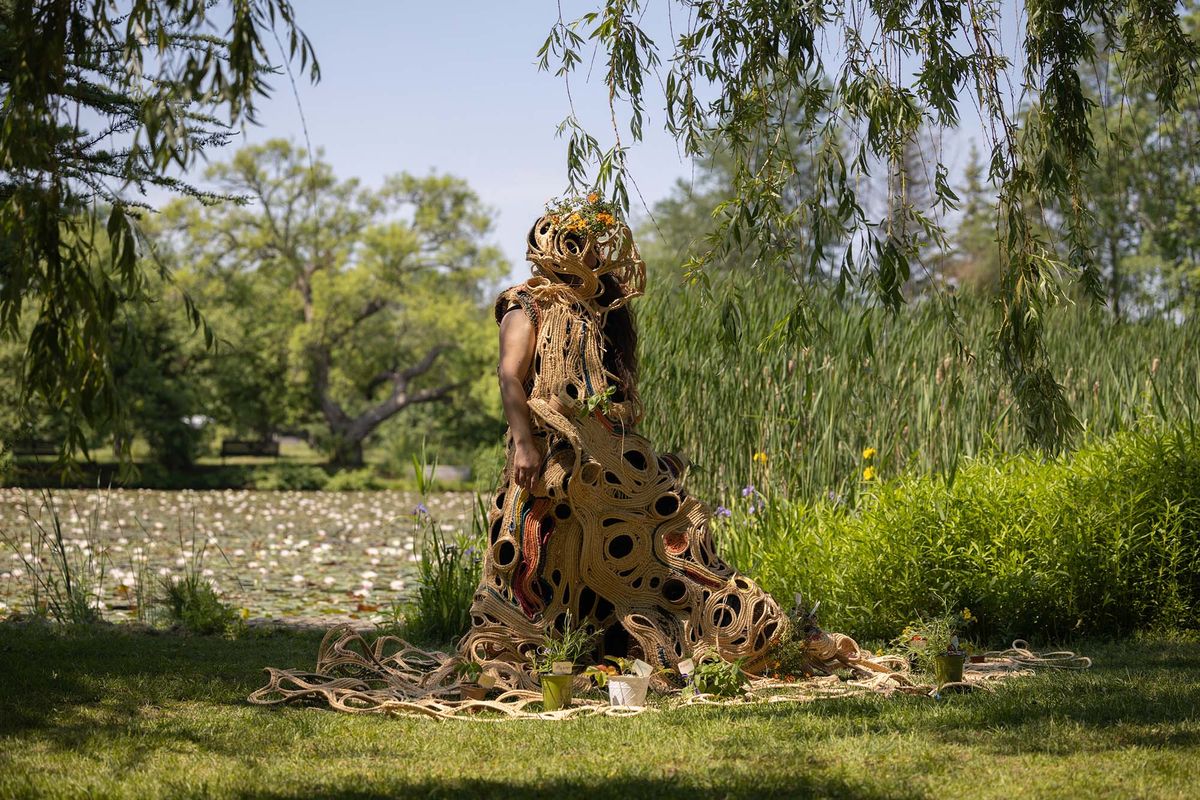 Khadija Baker has been an artist for a long time. And though her artistry has taken many forms, one element remains constant: the natural world. For Baker, everything is connected. "I feel that you cannot separate the environmental from the ethical from the social justice," she says. "All of them are connected in a very strong way."
Born in Amuda, Syria, Baker is of Kurdish-Syrian descent. Her work explores themes of identity, migration, displacement and home. She came to Canada as a refugee in 2001 and settled in Montreal. Already in possession of a master's degree in interior design from Damascus University, she earned a second master's in fine arts at Concordia University. She extended her time there when she embarked upon a Ph.D. in humanity and interdisciplinary studies, and she's currently working on completing her dissertation.
Baker's artistry in Syria focused largely on paintings and design. Once she moved to Canada, her work expanded. Performance is a large part of that. In her installation "Performing Community Garden" (2021), one of the winners of the Rewilding Arts Prize presented by Rewilding Magazine and the David Suzuki Foundation, Baker stands in public spaces wearing a dress she made from paper. Along the train of the dress rest various potted plants, each bearing the name of someone who died or was displaced as a result of violence in their communities.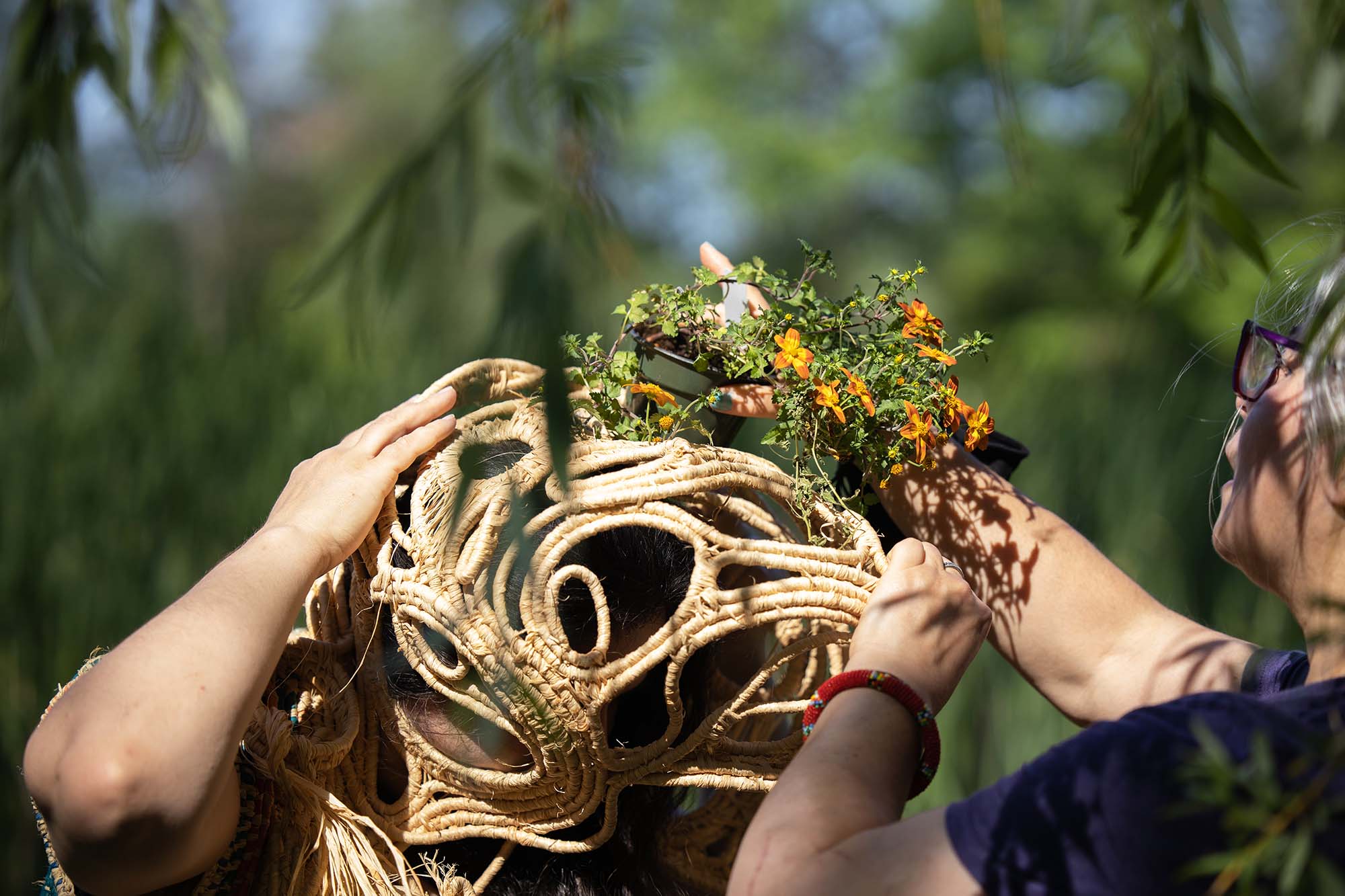 "I named plants after people because I wanted to highlight that plants are creatures like us, but at the same time, they can carry a story," she says. "You can find hope in them. Without having this form of a living thing, you cannot connect to the story of the person." She offers observers a plant in exchange for a story about its namesake – and in tending to the plants later, they keep the story alive. She encourages them to share a name and a story to be adopted into future performances.
The idea for "Performing Community Garden" was inspired by a garden Baker began at her home. "When I immigrated here, for the first six years I felt there was something warm missing from my life," she explains. She grew up in a big family, and when she had her own kids, she missed that social element. The absence became a catalyst for change in her personal life. After moving to a new home, she decided to start a garden with the help of her two children. They researched insects, seeds and various native and non-native plants. "I felt like these plants pass through what we have passed through," she says. "These plants will make [themselves] at home and grow. So it was a beautiful connection with the plants that added this feeling of belonging to the place."
There is a responsibility in the process of making art that Baker is careful to integrate throughout her practice. "I believe art has to create different meanings in our life," she explains. "I don't believe in originality. Nothing comes from void." This perspective materializes in many ways, one of which is a commitment to using used materials rather than new. But she also respects and acknowledges how human beings don't exist on Earth alone. "I have a tendency to work with the idea of 'more than human,'" Baker says. Art has the power to softly push the idea of living with intentionality. "It reminds us of our humanity, of the Earth."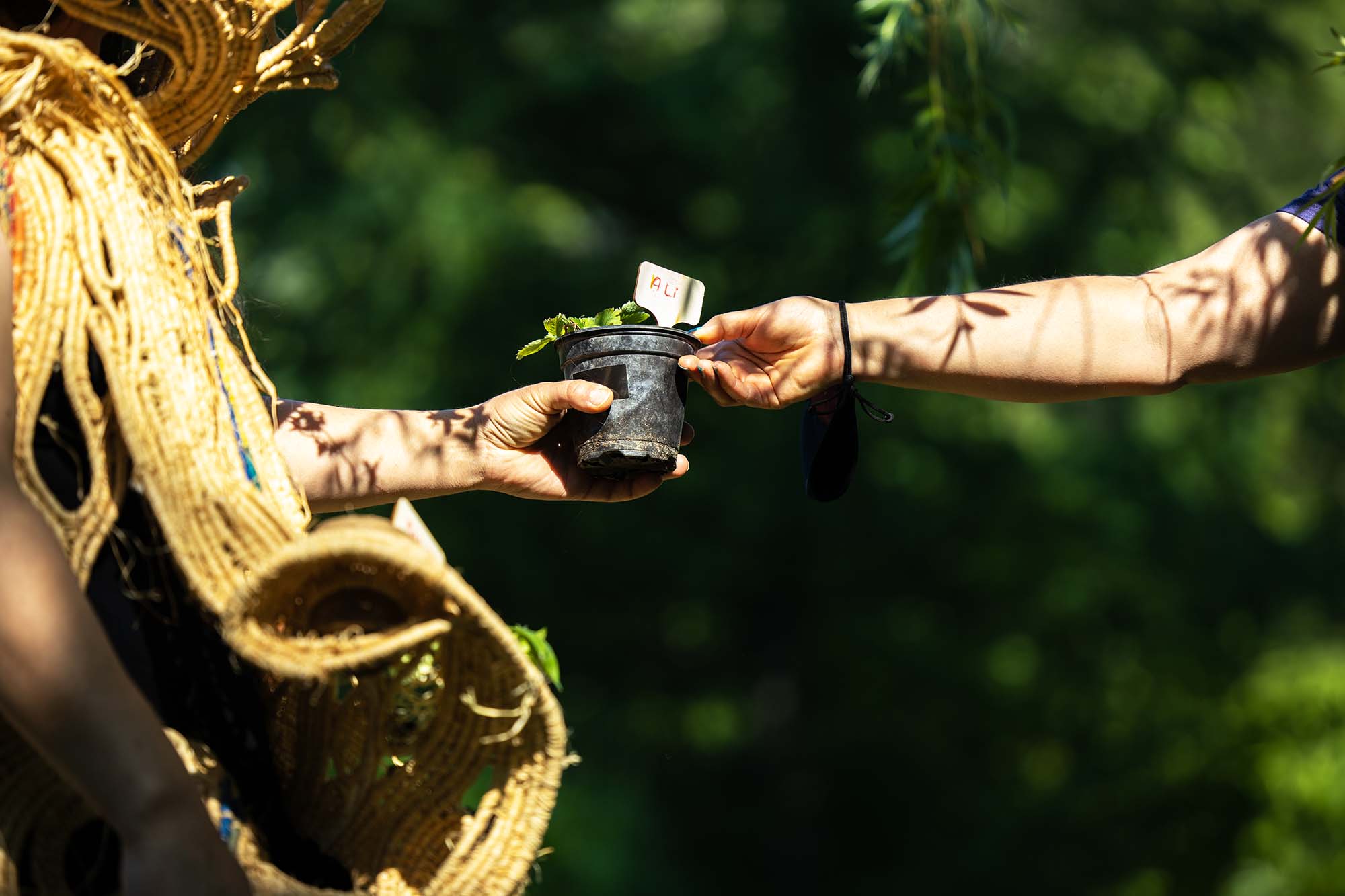 In attempting to define why art of her nature is important, Baker references French painter Marcel Duchamp's notoriously difficult-to-define concept of infrathin. "When you go to sit on a chair and somebody left, there is a beautiful warmth in the chair. When you sit, you feel it. This is what art offers. It offers warmth in our life." That moment between one body leaving the chair and the other arriving might be short, almost minuscule. But that is where her practice resides – in the brief divide between nature and the tangible realization of art.
She hopes to expand "Performing Community Garden," especially now that she's been recognized by the Rewilding Arts Prize. There's an additional sentimentality involved, given that it was Baker's niece who initially nominated her without her knowledge. "I love this gesture of care when you put your work out there [and] somebody saw the work, saw what it means," she says. "Like, wow, somebody listened to a story there. For me, it's really beautiful."
Khadija Baker would like to acknowledge the support of the Canada Council for the Arts and the CAFKA biennial in helping with the production of this project.
---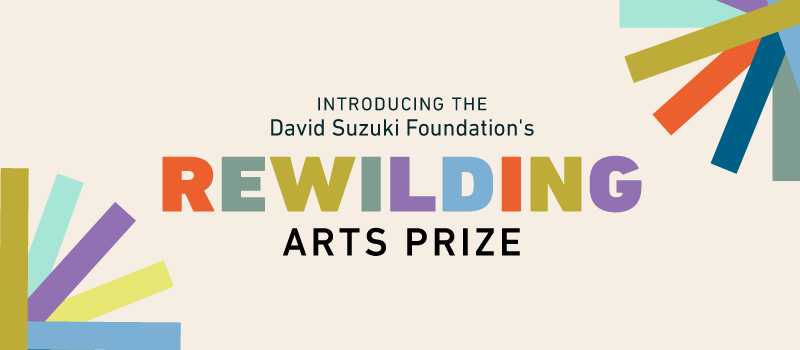 This article is part of a series on rewilding and the arts as part of the David Suzuki Foundation's inaugural Rewilding Arts Prize. Read more about the prize and the winners here: