Art
The Inuit artist bridging past and present
Inez Shiwak combines traditional materials and methods with new perspectives to create artwork that speaks up for her community and what they have lost.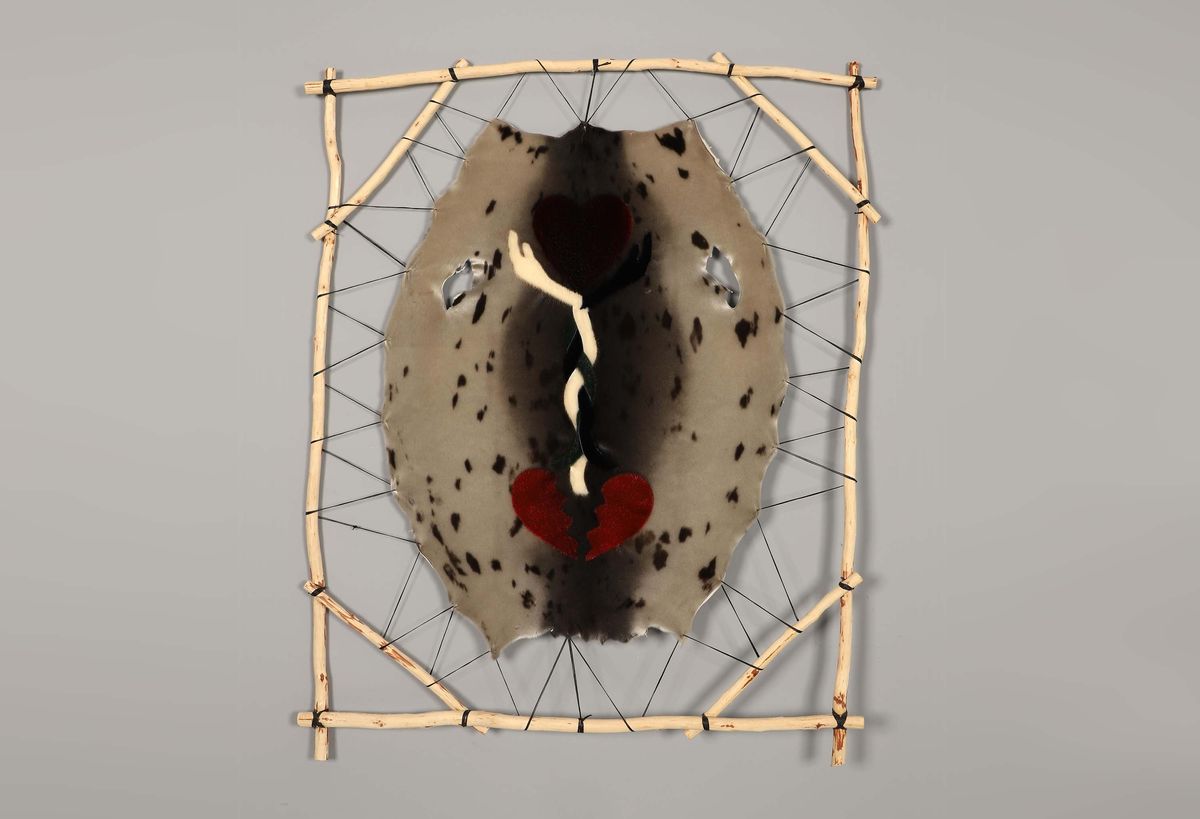 On a gloomy Thursday in late July, Inez Shiwak is working a slow shift at the post office in the southernmost Inuit community in the world: Rigolet, or Tikigâksuagusik in the local Inuktitut. Nestled on the north coast of Labrador, the town of 310-odd people is where Shiwak was born and raised and is central to her story as an artist, activist and researcher.
Outside, Rigolet's annual salmon festival is bustling. Its triumphant return this year after multiple pandemic-induced cancellations might be why business at the post office is crawling. But this isn't Shiwak's sole job – in fact, she's gearing up for a new position soon as an arts programming coordinator with the Nunatsiavut government. "Everything is all over the place," she says in relation to the many different hats she wears. "But it's always connected to where we live and how it affects the people in my community."
As a community researcher, Shiwak has delved into issues including climate change, mental health and preserving Inuit culture. In 2016, the Inuit Tapiriit Kanatami, a national organization that represents and protects the rights and interests of Inuit in Canada, honoured her with the Inuit Recognition Award for her vast contributions to research in the Arctic.
As for her artistry, Shiwak is best known for merging innovative ideas with traditional Inuit practices and materials. Her main mediums are sealskin and textiles; her prominent works are wall hangings made of sealskin stretched between raw wood pieces, bound by synthetic sinew and embroidered with vibrant and colourful scenery.
"My mom and my grandmother, my mom's mom, were into more of the traditional activities of sewing – making boots, slippers or coats. Whatever you need, they made," she says. "My stuff is more new, especially with the wall hangings. I wanted to do something different." This approach has helped establish Shiwak as an artist to watch – two of her sealskin works have been acquired by the Nunatsiavut government for their permanent collection.
Her first ever such piece, called "My Grandparents' Cabin" (2015), illustrates a wood cabin in a landscape of trees, birds, mountains and water. "This brings you to the view that [my grandparents and parents] would have seen when they were there. The same view that I see when I go there," Shiwak explains. "We have so much stuff that's untouched by man." In the foreground stand a cabin and a woman dressed in 19th-century European garb, adding a contrast of settler-colonial imposition in what would otherwise be untainted nature.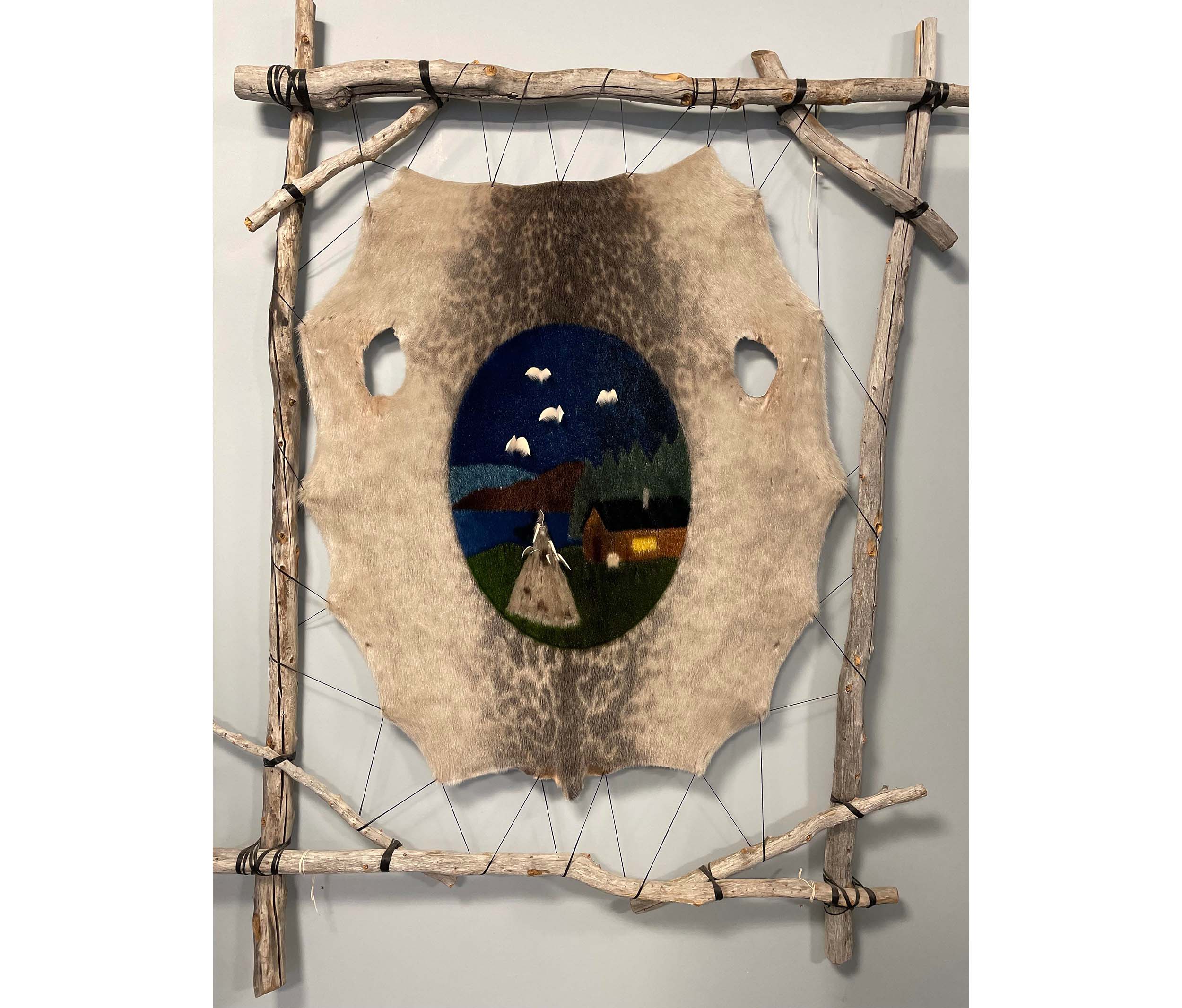 Ultimately, Shiwak's artwork is a vehicle for telling personal stories while also honouring all others who might feel a connection to it. "It's important because it shows how a different medium can be used to express who I am or where I'm at in the moment," she says. "I'm not somebody who wants to be a solitary artist. When it comes to my wall hangings, I want to be able to talk to somebody, because [if I don't], it doesn't feel right. It doesn't feel like I'm going to represent what I'm trying to do properly. And I want to make sure people are represented."
Bridging the past and present is important to her work, but so is being mindful of the process. Shiwak often consults her parents before going ahead with ideas. In 2017, for instance, Prime Minister Justin Trudeau made an apology to Newfoundland and Labrador residential school survivors. While he delivered his speech in Happy Valley-Goose Bay, Labrador, a distinctive piece of art hung behind him. On silvery grey sealskin, a broken red heart rises to a whole heart.
"The Healing," as it's called, was commissioned for the event. Before Shiwak agreed to do it, she first checked with her mom and dad, both survivors. "[My mom's] experience [at residential school] was horrible so it was like, 'Are you comfortable with me doing this wall hanging?' She [said] yes, go ahead and do it. But it was a lot of talking back and forth. What would we do? How would we do it? What would the meaning behind it be?" The artist credits for "The Healing" include both Inez Shiwak and Jack Shiwak, her father.
Many of the materials Shiwak uses for her art projects come from nature. For her most recent birthday, she asked for willow cutters as a gift – they'll help her source wood for the frames of her wall hangings. She doesn't waste any of the sealskin either. If any of what she has is not right for her pieces, she either uses it for other ventures or sells it. "I'm not wasting it," she says. "It's not going into the garbage."
Through her art, Shiwak wants people to understand that this tight-knit and historic community is where she wants to be. Intergenerational knowledge has been at the crux of her work and Inuit craft in general – she's an artist because her mother taught her to sew, and her mother learned from her own mother. "Going back in time to bring back what we used to do is something that's really important," she says. "Moving forward is okay, but we would also like to go back to reconnect to things that we have lost."
Photos courtesy Inez Shiwak
---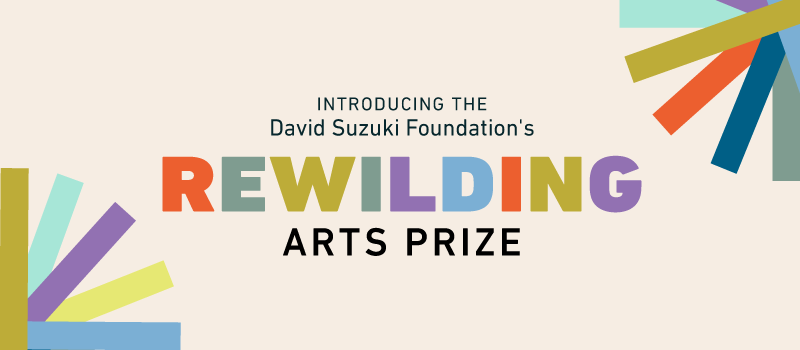 This article is part of a series on rewilding and the arts as part of the David Suzuki Foundation's inaugural Rewilding Arts Prize. Read more about the prize and the winners here: