Art
This printmaker uses plants as inspiration – and as ink
B.C. artist Edward Fu-Chen Juan creates silkscreened works of art that are rooted in both place and time and give a voice to nature.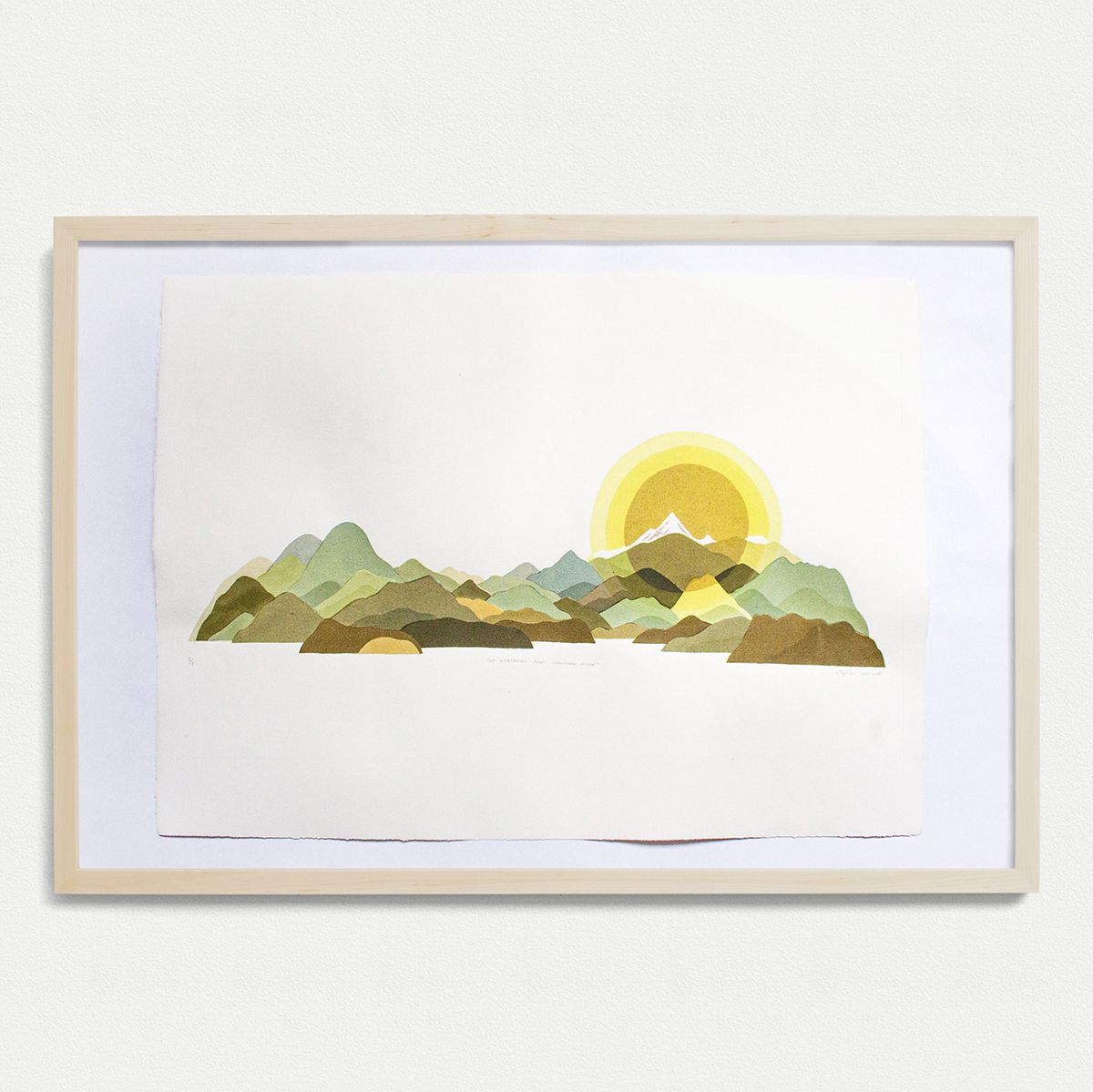 In Edward Fu-Chen Juan's East Vancouver garden, an abundance of leaves and stems catches the mid-afternoon July sun. They spring from wooden flower boxes built against the fence and the back of the house, where he has lived with his partner for two and a half years. In the tangle is a patch of goldenrod, a native perennial flower. Juan expects it to bloom with tiny yellow blossoms in the coming weeks.
When the goldenrod flowers, the Taiwan-born artist will cut some of the plant down, leaving the rest for the bees. Then he'll head to his workspace at Malaspina Printmakers on Granville Island, where he'll labour for several hours to draw pigment out of the blossoms. After the ink cools, he'll use it to create a print. In the past, he has used goldenrod to render landscapes like Mount Seymour, which rises over Vancouver, and Howe Sound, a fjord northwest of the city.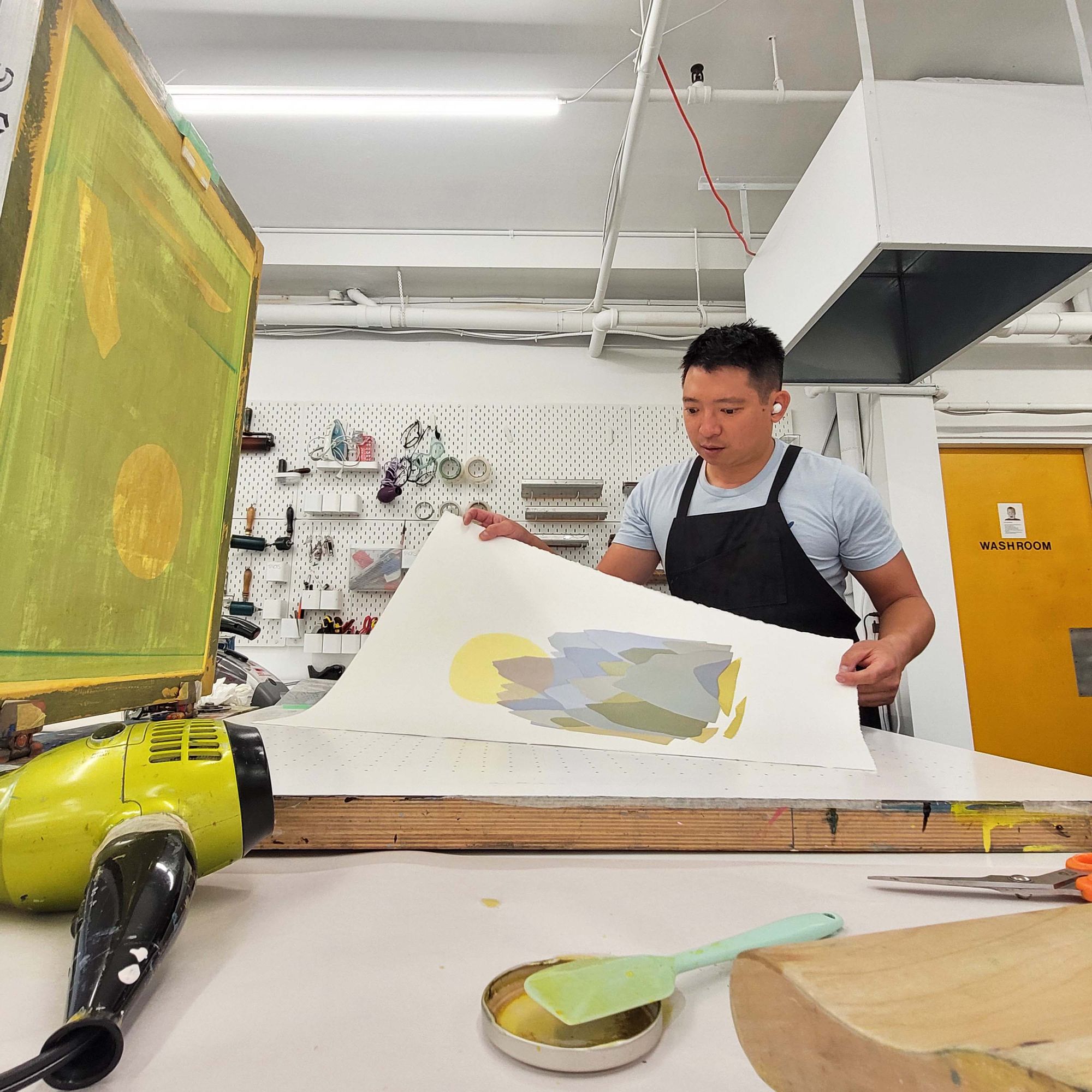 These landscape prints are special in a way that may not be immediately apparent: they only contain colours made from plants indigenous to the region. "My mandate as a contemporary modern artist is to give a voice to the plants that are local," Juan explains. He learned how to turn plants into ink from a Zapotecan master weaver in Teotitlan del Valle, Oaxaca, Mexico, which is known for its traditionally woven blankets and intricately patterned rugs. There, he also began to experiment with papermaking. He returned to Canada for professional mentorship with both a papermaker and a Japanese printmaker, both of whom work with natural ingredients. Those foundations enabled him to develop his own printmaking and papermaking techniques, which he now applies to his primary practice: silkscreen printing.
Today, Juan keeps a notebook filled with swatches of past ink experiments – "it's like my bible," he says. Inside, strips of vibrant yellows, splotchy pinks and muted greens and blues are accompanied by brief notes in black pen about each plant and process. For example, salal – an evergreen shrub that produces deep purple-blue berries in the summer – may result in a dark grey if Juan adds iron in the inkmaking process, or a cool-toned navy blue if he adds only rice starch.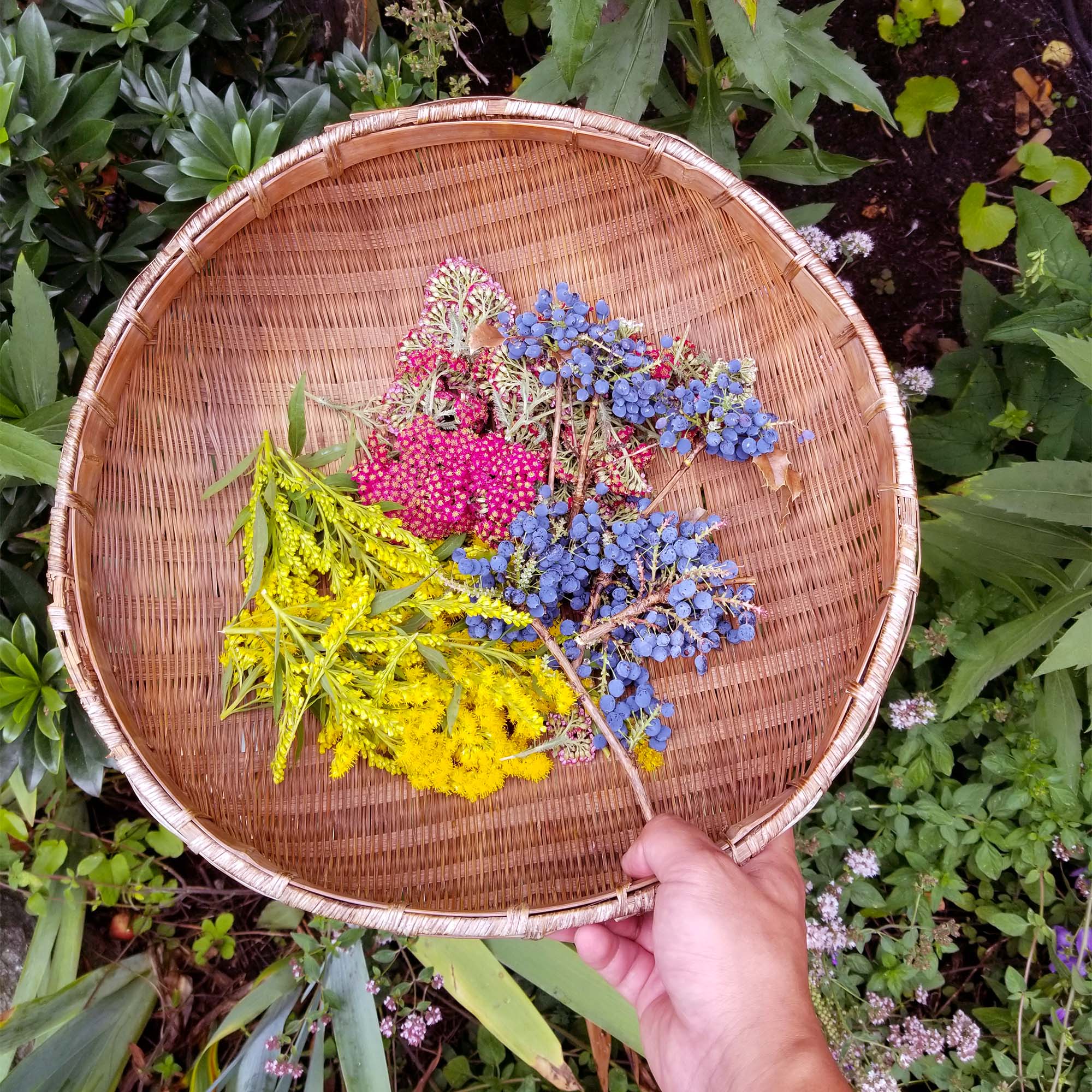 Despite these thorough records, Juan cannot dodge the unexpected. He may have catalogued goldenrod in his notebook of swatches, but each year, the ink he extracts will offer slight variations in colour. The plant itself has not changed. Instead, its growing conditions have shifted. Maybe the quality of the soil has changed; perhaps it's the amount of sunshine the plant enjoyed. Region is an additional variable to consider, because growing conditions may vary by area. "You get what you get, and that's what nature gives you – you can't force it," Juan puts it.
In this modern era, we have found ourselves accustomed to manufactured predictability. Each time you open a box of Cheerios, you know what your cereal will look like. If you step into the paint aisle at your local Michael's, you can expect that each tube of Liquitex acrylic paint labelled Chromium Oxide Green will contain the exact same shade. In contrast, Juan's process is "not like walking into a store to buy art supplies." When he transforms a plant into an ink, he must surrender control – without surrendering intentionality.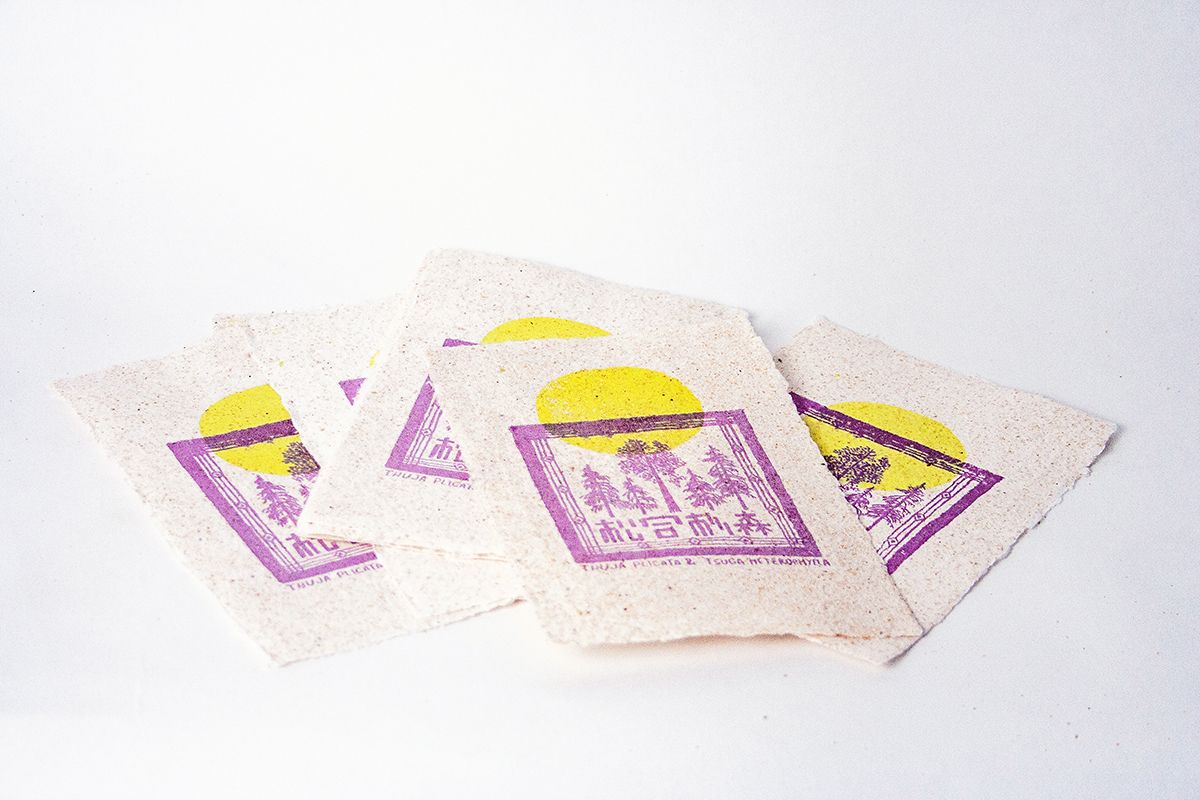 Before he forages in a region, he delves into reading and research, and typically visits the botany department of the local university, as "they usually have extensive research already being done on plants." If his grant funding allows, he'll hire a local botanist, artist or Indigenous knowledge holder to help him out. Otherwise, he relies on the information he's been able to gather. "Spending a lot of time hiking and getting mosquito bites also helps," he says with a laugh. Each plant, then, is not simply a plant: by the time Juan has it in his basket, he is aware of its immersion in a whole world of culture, history and ecology.
Such a process is necessary, he says, because many of the plants he seeks cannot be cultivated. Sometimes they have to be foraged from pieces of rock, areas with poor soil, or ecosystems with running water. They may only be available for fleeting windows of time. Sometimes, crafting a single colour will take him a whole day, and then the ink needs to be used quickly, because it may go bad within a few weeks.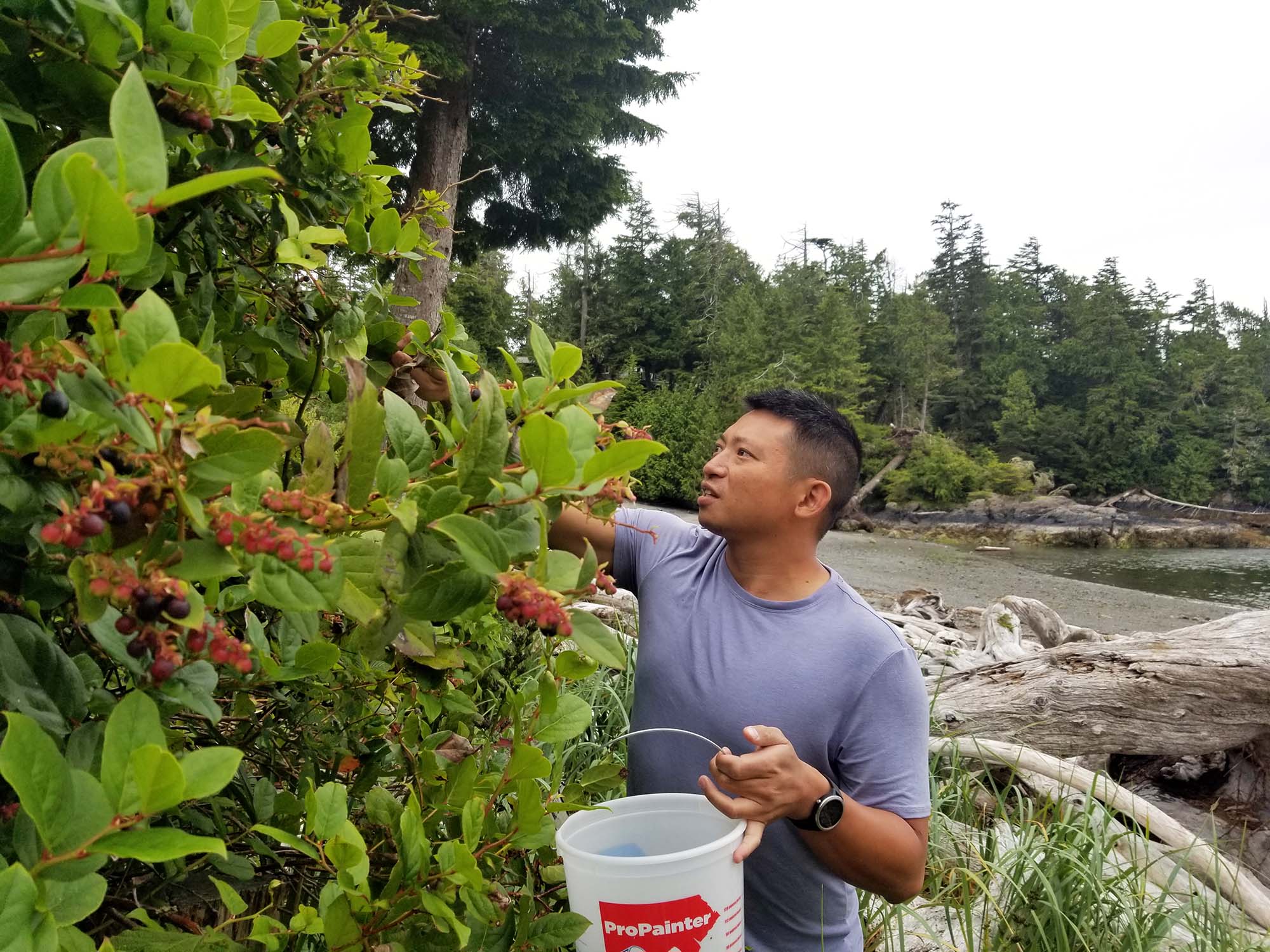 Even after all that work, there is no promise of results. Juan says the vast majority of plants do not generate colour. When he comes across one that does, he can't help but think about its impending vulnerability in the face of climate change. When I ask for an example, he points to salal, a plant that was abundant during my early-2000s childhood in B.C. – it seemed to grow underfoot in every forest I visited. But in 2019, CBC reported that the bushes were dying, perhaps due to the combination of a particularly dry summer followed by a polar vortex. Another example is arbutus, a coastal evergreen tree with a crooked trunk. Juan uses the berries and bark of the tree to produce an orangey ink. He says that plants like these, which only exist in wild ecosystems, may not be the most eye-catching or beautiful – so who's protecting them?
In exchange for his patience and surrender of control, Juan's art is imbued with meaning. When he sees a piece he's created, he doesn't just see the image he inked. Instead, the colours transport him back to specific moments in his process – an insect bite he got while gathering materials at a swamp, or an ink that didn't work out. As he puts it, the colours in his work "tell a memory story." And each print contains the unique colour palette of a single ecosystem, preserved in a single moment in time.
All photos courtesy Edward Fu-Chen Juan.
---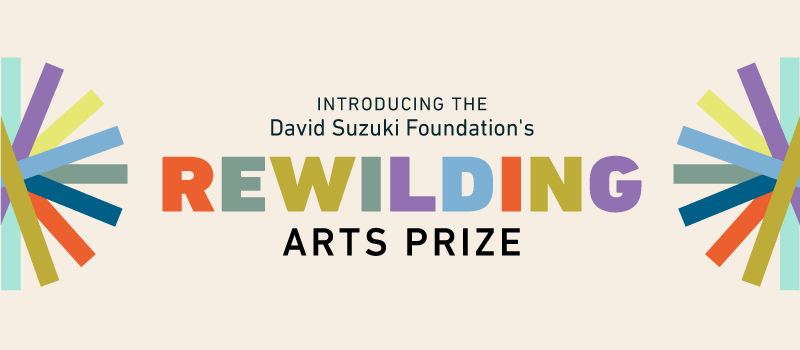 This article is part of a series on rewilding and the arts as part of the David Suzuki Foundation's inaugural Rewilding Arts Prize. Read more about the prize and the winners here: