Art
The painter raising awareness of our connection with nature
Christi Belcourt creates art to help us rebuild our relationship with the Earth – so we can fight for a better future.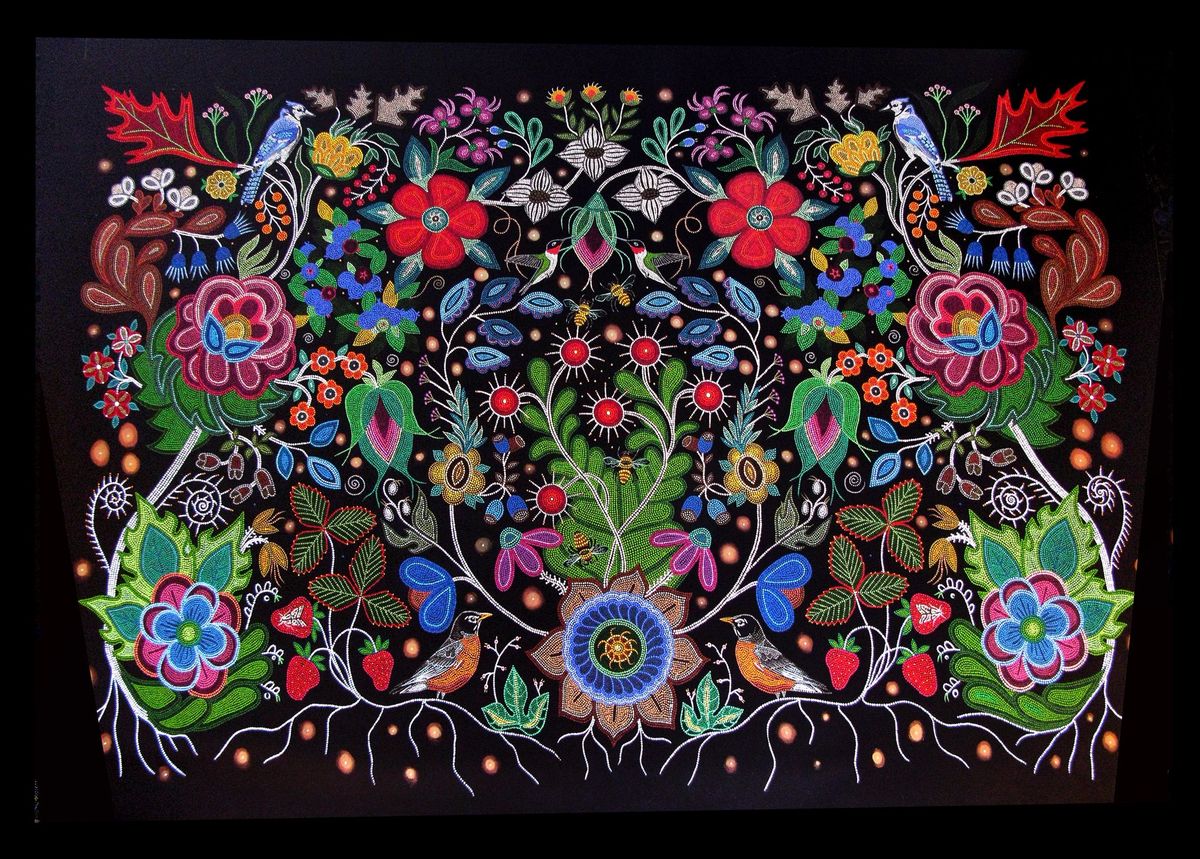 It was in 2000 that Métis artist Christi Belcourt found herself reconnecting with nature. Originally from Lac St Anne in Alberta, she moved at that time from an urban area to Anishinaabe territory on the north shore of Lake Huron in Ontario.
"I wanted that opportunity for my daughter to be raised close to the land, out in the bush," she says. "That was a really important and beautiful time. Since then I've always somewhat been out on the land."
In the decades since, her work has been shown across the country and become part of the permanent collections of the National Gallery, the Canadian Museum of Civilization and the Thunder Bay Art Gallery. And while the natural world has long been a frequent theme, in the past five to 10 years, she's sharpened that focus.
"I try to raise awareness about endangered species, about the importance of water, the sacredness of water and the interconnectedness of every living thing that sustains life on Earth," Belcourt says. "I'm able to use my art as a way to launch into discussions around the environment around biodiversity, around the importance of sustainable practices and Indigenous law, which is in alignment with natural law."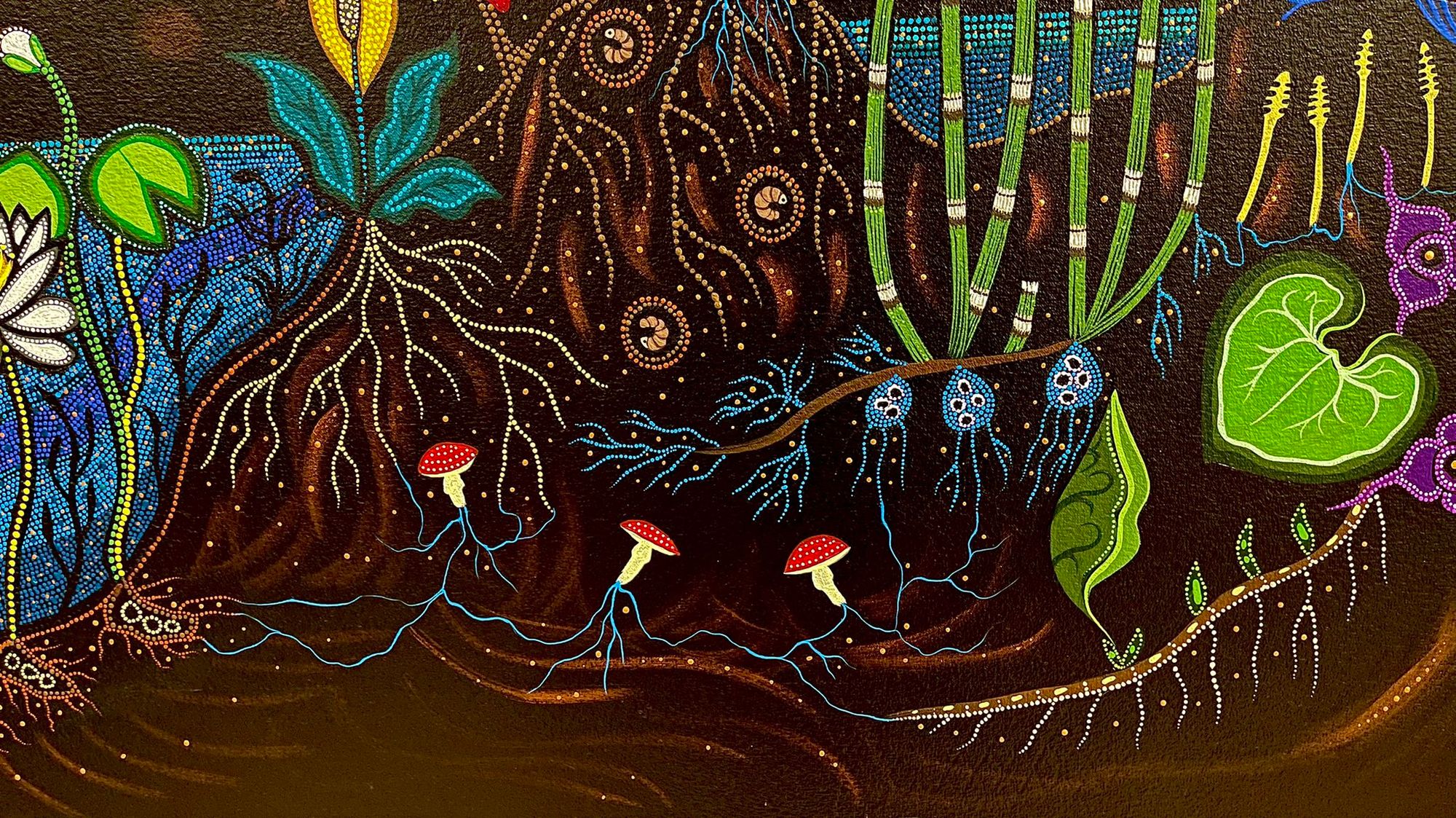 One example: This Painting is a Mirror, a 6'9" x 8'4" acrylic on canvas painstakingly created to look like traditional beadwork. The piece, which features various plants and birds, "reflects back to the viewer all the beauty that is already within them," she explains. "We are not separate from anything, we are born connected to the earth, with the capacity to love, to be kind, to be generous, to be gentle." (This Painting is a Mirror was one of 50 contemporary Indigenous works reproduced for the Resilience Project, a boxed set of "art cards" designed to inspire discussions and activities in schools.)
Belcourt is doing what she can with her talents because time is of the essence, she says. "People are not going to act for the Earth unless they remember how much it means to them. I want to be part of that."
Other conservation-themed works include My Heart Is Beautiful – a 7'11" tall and 12" wide acrylic on canvas that includes 50 different plants and their roots to show "there is more to life than what we see on the surface … and that we need nurturing from Mother Earth in order to survive" – and The Wisdom of the Universe, which features threatened, endangered or extinct animals and plants in Ontario, including the dwarf lake iris, the Karner blue butterfly and the cerulean warbler. The 2014 piece, commissioned by the Art Gallery of Ontario, expresses how "all species, the lands, the waters are one beating organism that pulses like a heart. We are all a part of a whole," Belcourt says. "The animals and plants, lands and waters, are our relatives each with as much right to exist as we have."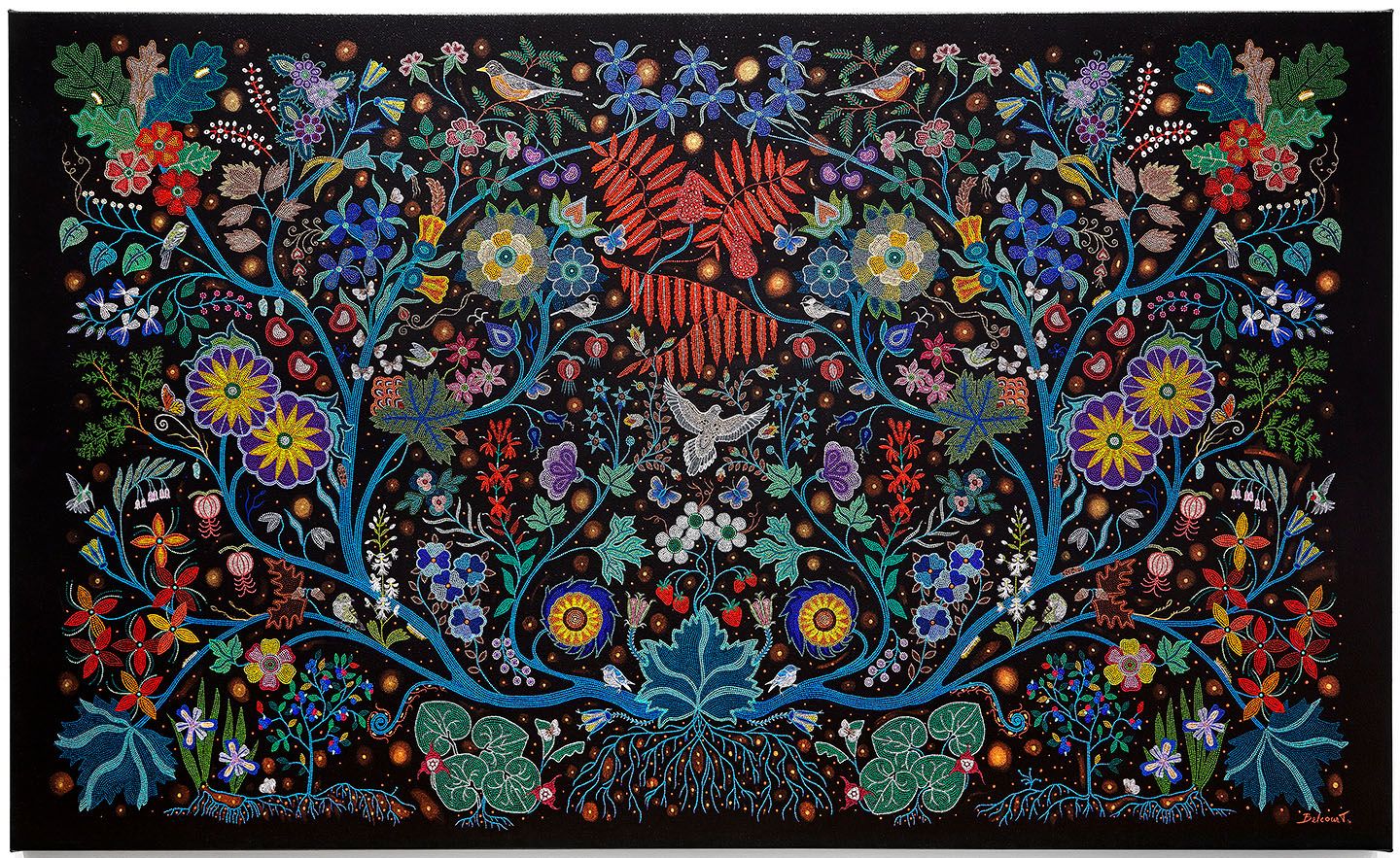 Beyond relaying an important message, Belcourt's work has a direct, positive impact on the environment. Sales of T-shirts based on her art contribute to the costs of running a language camp she founded with a group of like-minded people called the Onaman Collective. The camp, Nimkii Aazhibikong (which means Village of Thunder Mountain in Anishinaabemowin), is located near a lake and surrounded by forest and bush. But it is also the site of a former gravel pit used by the Ministry of Transportation, so a youth-led restoration process is underway.
"They've planted about 80 different fruit trees that are indigenous to this area," Belcourt says. "We've purchased some soil and spread it out. We're greening the ground. We've started gardens and planted many different types of trees. We're continuing to recreate this entire space."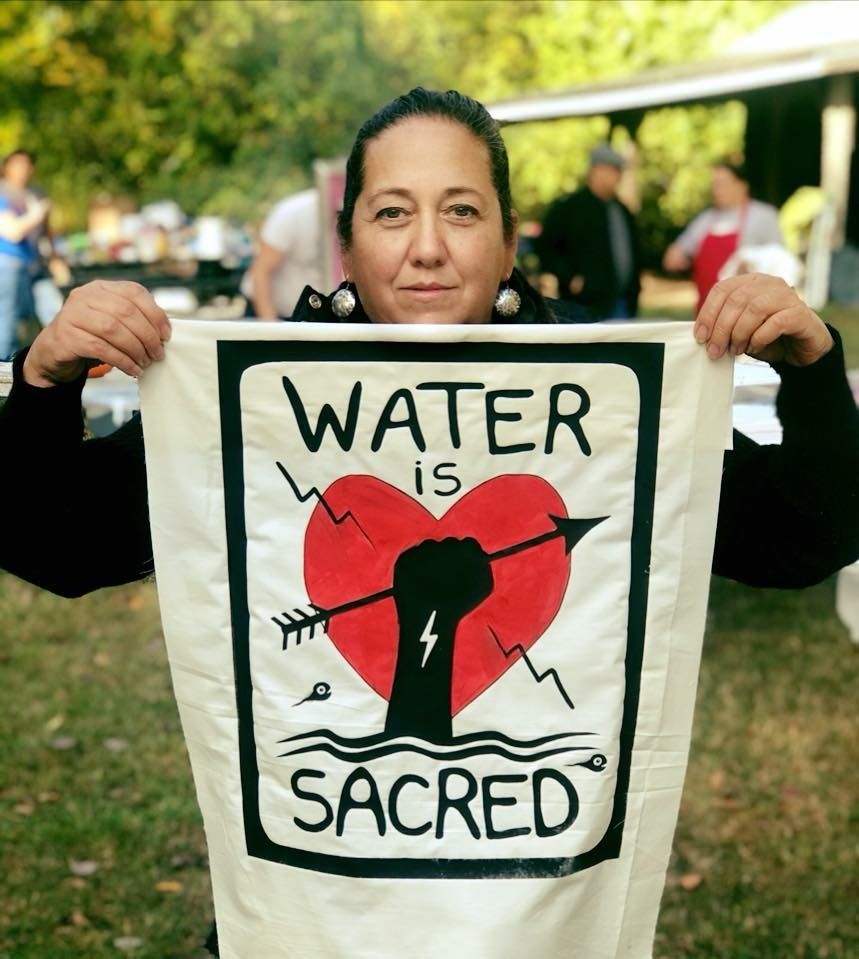 Ask Belcourt about the future of sustainability and, along with a call for more stringent government regulation, she inevitably brings up the past. "We would take just what we would need," she says of traditional Indigenous practices, "leaving enough for the bears, the other animals and for the blueberries to propagate themselves."
She continues: "How it would look large-scale if that principle was applied to how we do things? It would put into challenge the concepts of capitalism, because capitalism is based on insatiable growth and the right of individuals or individual corporations to take what they want, to be able to accumulate mass amounts of resources or money. It leaves the Earth, the species on the Earth and humans wanting or needing, and it creates an incredible imbalance, which is what really is driving the climate crisis."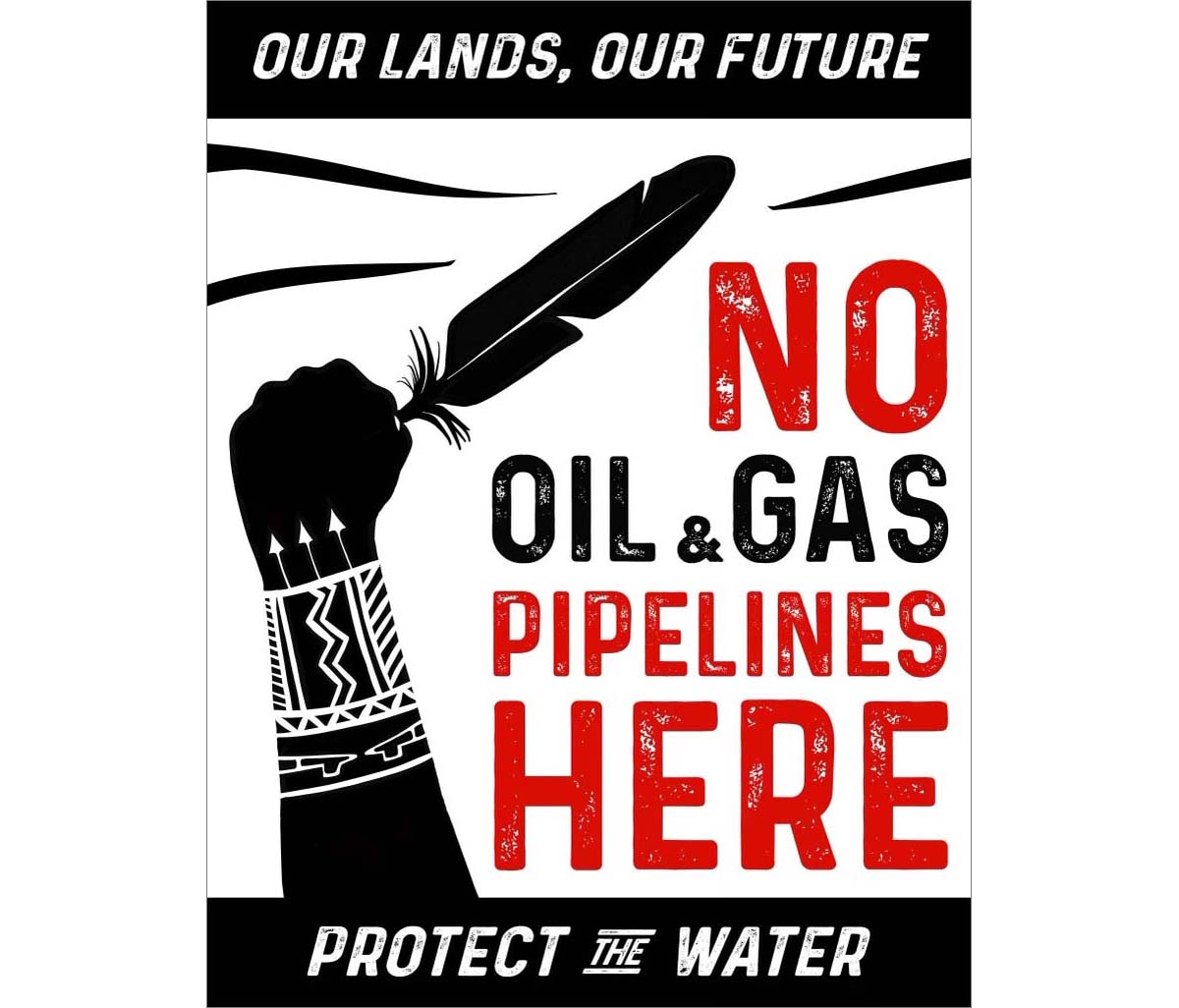 While deeply concerned about the impact of industry on the environment, Belcourt remains optimistic as to what could happen if we choose a new path. "I think what gives me great hope is that when people take the effort to regreen their spaces and to protect their waters, it's been proven that the water will replenish and come back healthy," she says. "The spaces will replenish and forests can be replenished."
Ultimately, Belcourt says, her art is a means for people to connect with the deepest parts of themselves that love the Earth. "When they see my work, I want them to remember the Earth is powerful and all hope is not lost," she says. "Don't give up and don't stop there. Don't ever stop fighting."
All images courtesy Christi Belcourt. Belcourt's exhibit Take Only What You Need is on until December 6, 2022, at the Robert Langen Art Gallery in Waterloo, Ont.
---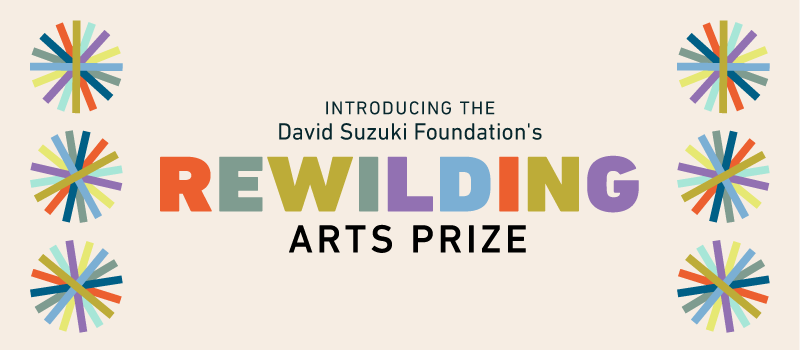 This article is part of a series on rewilding and the arts as part of the David Suzuki Foundation's inaugural Rewilding Arts Prize. Read more about the prize and the winners here: