People
The circus act that puts climate action front and centre
This Montreal troupe uses the outdoors as both stage and props to inspire audiences to discuss the climate crisis and find ways to make change.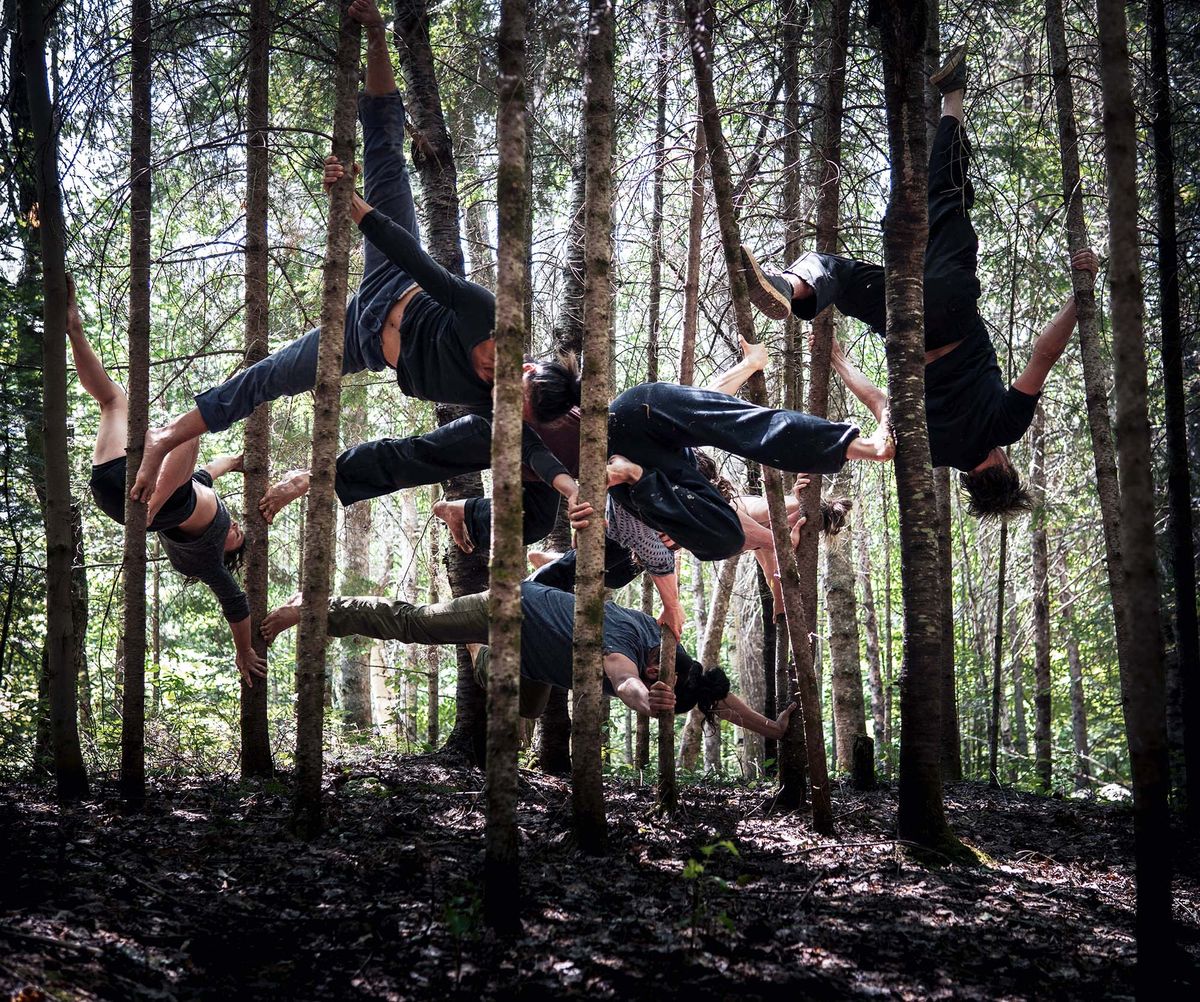 This article is part of a series on rewilding and the arts as part of the David Suzuki Foundation's inaugural Rewilding Arts Prize. Watch for an announcement of the winners on February 7, 2023.
One person is perched in the crook of a tree about nine feet up, eyes closed, forehead resting against the trunk. Another, even higher up a second tree, is serenely balanced, as if it's the most natural place in the world to lounge. A third person, draped facedown overtop a large boulder, seems to have settled in for a nap. Surrounding them are yet more individuals situated in equally unusual positions amongst the trees and rocks.
This is the scene greeting audience members in the summer of 2021 as they find their spot in a clearing of the woods at Jacob's Pillow, a 220-acre dance hub in the Berkshires of Western Massachusetts. The peculiarly situated group of performers are about to launch into Branché, an acrobatic show co-produced by Barcode Circus Company and Acting for Climate, both based out of Montreal.
Meant to be performed outside in nature, Branché is a story about the climate crisis. "The overall arc of the show reflects a community that goes too far, is a little bit reckless, and it leads to conflicts," says Eric Bates, co-founder of both Barcode Circus Company and the Branché project. "Then it presents an alternative future at the end – a more harmonious working-with-nature sort of future."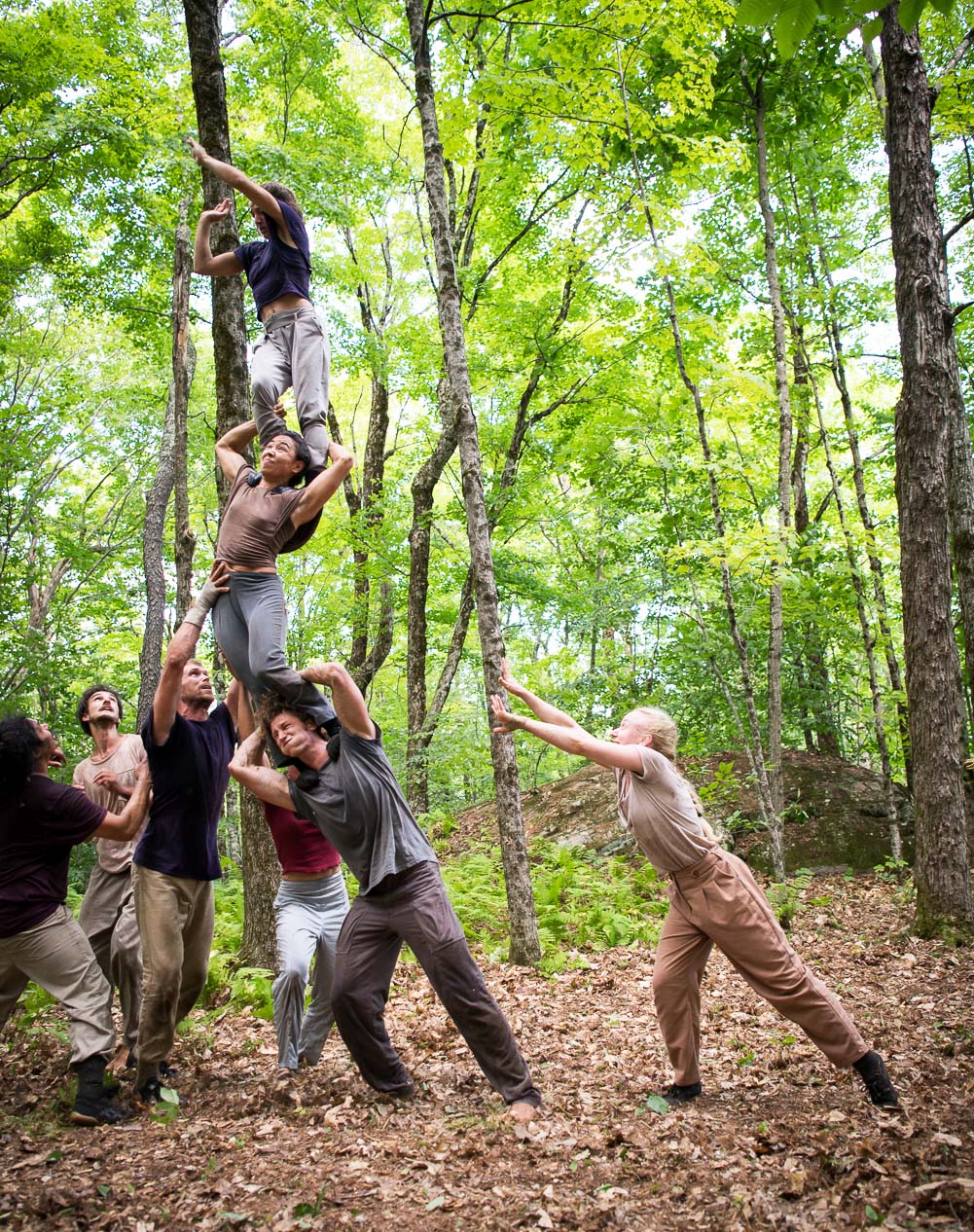 The work sees a troupe of (usually) eight acrobats leaping, tumbling, climbing and moving in and around the forest or a park, utilizing trees, rocks and rivers – whatever happens to be there – throughout the performance. Of course, it's only natural to perform a show about the climate crisis outdoors, which meant that the team had to choreograph the show to be adaptable. While the general framework is consistent, each location is different, demanding that the performers adjust their movements in response to the surrounding environment.
The effect of the natural setting is magical and has led to several serendipitous moments. Once, a chorus of live birdsong accompanied a peaceful section of the recorded soundtrack. Another time, the sunset cast a golden glow just as the uplifting third act began. "Moments like that have been really special," says Bates.
Bates and co-founder Nathan Biggs-Penton (who is also the founder and co-director of Acting for Climate Montréal) first conceived of Branché in 2019 and started development in early 2020. (While the concept for the show came pre-COVID, the nature of its format allowed it to thrive during a six-feet-apart existence when many live productions had to pause.) The duo wanted to create a circus show about the climate crisis that would encourage people to talk about the issue. "We want to be that source of inspiration that gets people going, gets people working in their own communities," Bates says.
Branché has been successful in this regard. Says Bates: "We had a lady who came up to me after [a show] and said, 'That taught me more than 100 sermons.'"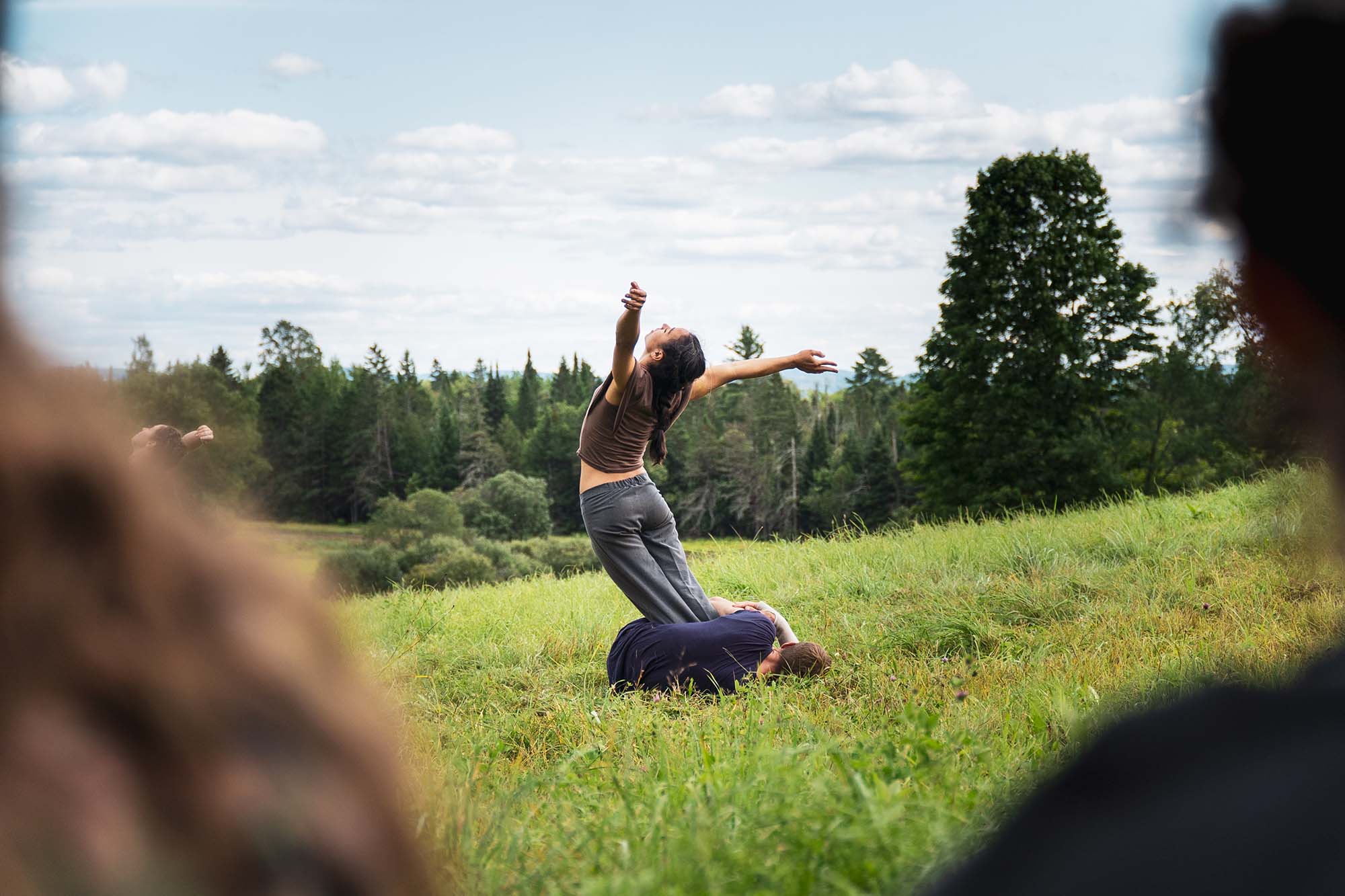 Children respond, too, mimicking the falls and flops of the acrobats as they lead the audience from the first to the second "stage" area during the show. "If they're imitating that, what else are they imitating and are going to take home and ask their parents about afterwards?" asks Bates. "It's a way for them to start a conversation."
As Bates says, circus is a very abstract art, but through imagery like reeds in the wind and shrinking space, Branché communicates themes of nature, ecology and issues facing the environment. "When you put the frame of climate change around it, it makes people think of whatever they want to think about," he says. "You don't have to paint it with a thick brush for them to see and understand different concepts."
Beyond the content of the show, Branché is also a sustainable production. Touring is done locally by ground transportation to avoid environmentally problematic air travel, with separate teams of artists to cover each geographic area. Because the natural outdoor setting means rigging and stage equipment aren't required, the company doesn't need large trucks for transport, thus minimizing carbon emissions. And costumes for its gender-balanced cast are secondhand, to avoid generating waste.
This purpose-driven way of working has at times called for renegotiating contracts with the organizations that pay to have Branché performed at their locations. "[Two places] had exclusivity clauses, and they're an hour from each other in the U.S., so they didn't want us to perform within a week of each other," says Bates, who had to explain to their hosts that travelling home between the two engagements wasn't sustainable. "The way we are touring and the mission of the show will not let us do that."
This is the purpose of Branché – to teach and to open people's eyes to how our actions contribute to the climate crisis, to inspire and to provide hope. Says Bates: "As artists, it's our job to keep inspiring people and to keep it in the public consciousness."
---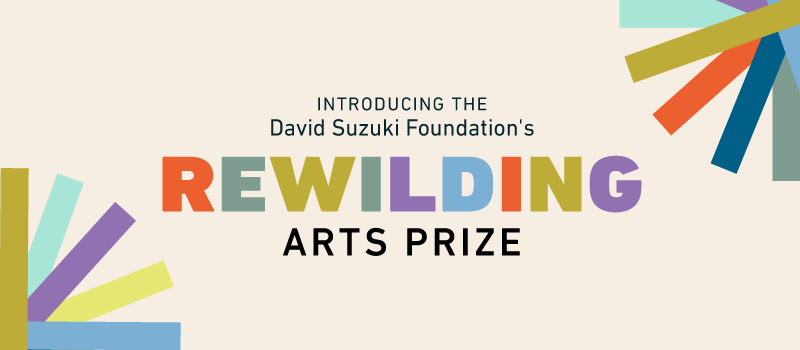 We're pleased to be partnering with the David Suzuki Foundation on its Rewilding Arts Prize, which showcases artists and groups in Canada who are using artistic means to creatively visualize and bring attention to issues of rewilding in our lives and communities. Selected artists will be awarded $2,000 and their artwork will be profiled and shared by the David Suzuki Foundation and Rewilding Magazine. Entries are now closed; watch for an announcement of the winners on February 7, 2023.